By the end of a long winter, it's far too easy to get stuck in that leggings-and-ugg-boots rut, particularly as a student. Yes, it really is still

that

cold, so we're all understandably feeling a bit blergh. And when your reflection looks a bit dull, dowdy and bland, the chances are you'll feel exactly the same. But fear not, spring is definitely on the horizon, and what better way to usher it in than by refreshing your look?

Obviously, no-one wants to look like they're trying to hard just to rock up to a lecture (the nonchalant 'oh, I just threw this on' vibe is one perfected by most students), but you'd be surprised just how much refreshing your style can do for your outlook, mood, and maybe even life.

'But I can't afford a new wardrobe!'

, I hear you cry. Well, don't go rushing to Primark just yet. Those £1 vest tops are going nowhere any time soon. There are plenty of ways in which you can transform your look on the cheap, and most are a lot easier than you'd think. Often, all it takes is a little creativity, and

voilà!

It's a whole new you.

1.

Get creative with scarves

pic from telegraph.co.uk

A staple in any elegant lady's wardrobe, the classic silk scarf is much more versatile than you might think. You can channel your granny, but thanks to quirky offerings all over the high street, these babies can be brought bang up to date and can work wonders for jazzing up your everyday look. Tie in a bow round your neck, or go for a neckerchief style. Think Bridget Jones going off on a mini break and wear as a headscarf (before it blows off, that is), or tie in a bow as a hairband. Attach a scarf to a handbag – a patterned scarf looks particularly striking on a plain bag. With a silky scarf blowing in the breeze, you'll feel every inch a timeless beauty. (

Check out my blog about my vintage Hermès silk scarf here

)

2.

Don't forget hair accessories

pic from glamour.com

Our poor hair is so often overlooked – we leave it hanging loose, or scrape it back in a ponytail or top-knot. However, adding a little something to your hair is an easy peasy way of refreshing your style. Try out pretty ribbons, flowers, slides, clips and – that old favourite, reinvented by Team GB gymnasts so superbly last summer – the scrunchie. It doesn't take much effort (or time – crucial when you're late for a 9am lecture) to whack something extra in your hair, and can make as much of a statement as you like.

3.

Layer up!

pic from puttingmetogether.com

Layering is more than a method for staying warm and an easy way to reinvent the current pieces you've got in your wardrobe – don't be afraid to think outside the box and mix things up. For example, try a shirt over a dress, wear a long top that can be seen under your jumper, choose a shirt with a collar that peeks out over the top, or show off ankle socks instead of hiding them under your skinny trousers.

4.

Add a piece of statement jewellery

Caroline from 2 Broke Girls rocks the statement necklace - pic from prideandpearls.com

All it takes is one bold necklace or pair of earrings to inject a bolt of excitement into your wardrobe stables. Some striking jewels will draw the eye, and whether expensive or otherwise (and I'm presuming the latter), can do wonders for making an old outfit feel new.

5.

Colour blocking

pic from tumblr

Not just for summer, bright colours are a sure-fire way of ensuring you'll catch

his

eye across the lecture hall (and I don't mean your professor). With a simple colour-blocked outfit it's hard to go wrong, and you're certain to have a spring in your step as you walk up the long hill to uni (particularly if you're nursing a hangover. And it's raining.)

6.

Mix casual and dressy

Kylie shows us how it's done - pic from posh24.com

There's no reason why your daytime and night wardrobes can't be one and the same, or at least why they can't overlap – although I'd recommend keeping that body con, cut-out, lacy LBD for the dance-floor, not the lecture hall. A nice smart-ish dress can easily be dressed-down for everyday with some ankle boots and a denim jacket, or team a pretty blouse with distressed shorts for a bit of juxtaposition (yes, I know some long words.)


7.

Add a belt

pic from weheartit.com

A great belt can make or break an outfit. Not only can they add a splash of pizazz to your look, but they can work wonders for a girl's figure. We – unlike men – have waists. Hoorah! Therefore, we should surely accentuate them, right? A waist-cinching belt can take a simple dress from drab to fab in an instant (did I really just write that?)

8.

Stay warm and stylish with fun tights

pic from spreadz.co.uk

Tights should be about more than just keeping our legs warm in winter, and are something you can have a lot of fun with. Patterned tights are all over the high street at the moment, offering lots of different prints to try out – think hearts, polka dots, stars, bows and more. With prices from a mere few pounds, funky tights are a student-friendly way to give an old dress, skirt, or even pair of shorts a new lease of life.

9.

Go bold or go home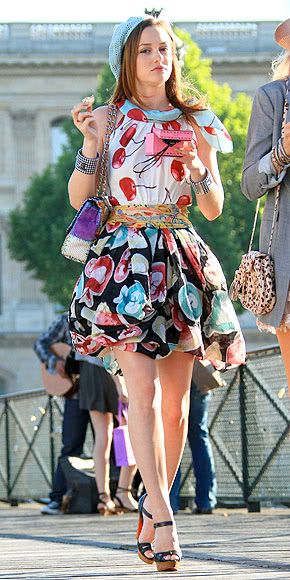 Blair Waldorf shows us how it's done - pic from episode.com.au

Don't be afraid to clash prints and colours. We all have certain items of clothing which we always wear with the same other item of clothing, but don't be afraid of clashing prints – it's been seen all over the catwalks,

dah-ling

. A stripey top with a rose-print skirt? Why the hell not. Tye-dye skinnies with a polka-dot jumper? Go for it.

10.

Change your buttons

pic from mountainsmama.blogspot.com
Pop down to any haberdashery and you'll find all sorts of interesting buttons on offer for (usually) very student-friendly prices. All it takes are basic sewing skills do a quick switcheroo of buttons, but by doing so, you can make an item of clothing look completely different, not to mention unique. Give a Primark cardie a vintage vibe by adding some ornate gold buttons, or choose odd ones for a cute individual look. And who says our generation don't know have any domestic skills?
Read this article on Refreshers' Wall here.