Youth hostels. They have something of a grotty reputation, don't they? Does the name conjure up thoughts of dirty communal showers and cockroaches scurrying underneath the bunks of a massive shared dorm? Well,
PLUS Berlin
is nothing like that whatsoever... Minus the fact that it has bunk-beds.
I can't claim to be a regular hostel visitor, but of the two I've frequented in my youth,
PLUS Berlin
is leagues ahead of the other, and judging by tales from my far more worldly friends, just as far ahead of pretty much every other hostel known to man. It's unsurprising then, that
PLUS Berlin
was named
one of the ten best luxury hostels in Europe by the Guardian
, and how convenient that said announcement was made just before our trip to Berlin.
Last week I spent four nights in
PLUS Berlin
with my friends from our university German Society, and it was absolutely great (read
my guide to Berlin and thoughts on the city
here
). Quite frankly,
PLUS Berlin
was more like a hotel than a hostel, and yet somehow, rooms start from just
11 Euros a night
. Yes, really.
It was easy to find when we arrived in the dark using the directions from their website, and is both central and super close to both S-Bahn and U-Bahn train stations. There's also a supermarket just round the corner, which is really convenient given the fact that the breakfast offered in the hostel is 6 Euros per person. Sure it's all you can eat, and was nice, but for most students it's a little more than they'd want to spend every morning. We did it the once, and it's great that the option is there for when you haven't had time to go shopping, but I imagine most broke students will do something slightly more thrifty. Why hello, multipack of brioche.
As the hostel is attached to a hotel, there's a nice shared restaurant slash bar which is open to everyone. I didn't actually eat in the restaurant myself (street-side currywurst was more how we rolled), but friends that did said it was nice. They were advertising an offer for a pizza, pudding and drink for 10 Euros. Not too shabby, I'm sure you'll agree.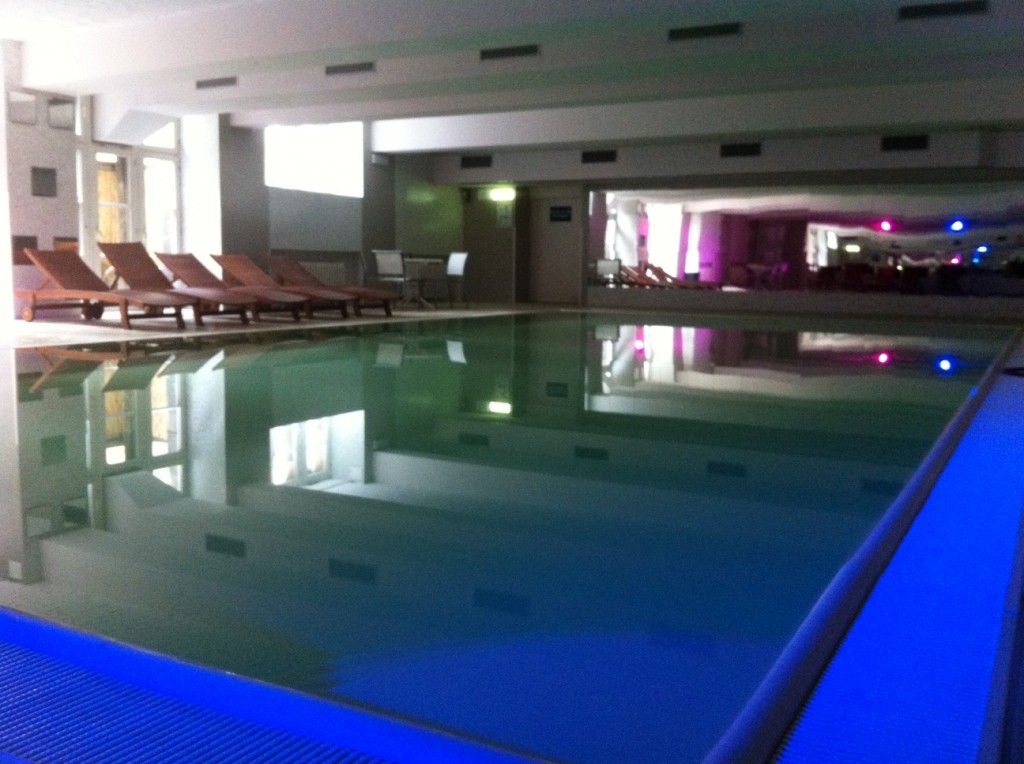 PLUS Berlin
has a big
common room
with table football and ping-pong tables, should you be so inclined. Not only this, but there's also a free
swimming pool and sauna
available. Don't get too excited though - we were, but were then a little disappointed to discover the pool was extremely chilly (I'd bought a new Primark swimming costume and everything!) and thus didn't really do any actual swimming. Perhaps it'd be more appealing when it's not January. We did however have a nice chillax in the sauna, which was extremely pleasant after a bleak wintry day exploring the city.
One of the best things about
PLUS Berlin
is the fact that it offers
free Wifi
. Yes, actually free. Not like a lot of places that advertise it as being free, but then state that's it's only for half an hour or something. As I'm sure most other youths will agree, this is an extremely attractive feature in a hostel. There are also completely
free-to-use computers
for any of the few people left on the earth who don't have smartphones.
The hostel is absolutely huge, but it's really nice and clean inside. The
interior
is funky, with purple walls and edgy artwork dotted around. Really, well, youth-friendly. What's more,
PLUS Berlin
was delightfully cosy, which is exactly what you want in a hostel during the winter - our bathroom had under-floor heating for goodness' sake!
I was staying in a
four-bed dorm
with three girlfriends - two bunk beds, our own en-suite bathroom (as per every room!), a hair dryer, a little desk and chair, and four lockers, but you need to bring your own padlocks for them. Bed linen was provided, including classic strange German pillows, but towels weren't, although you can rent one for a few Euros. The bathroom was particularly great with a powerful shower, toilet, washbasin, heated towel rail, mirror and cupboard. None of those strange shower wet rooms you often find in hostels. Incredibly, our rooms were cleaned and our beds made every day. Amazing. Although we weren't in one,
PLUS Berlin
also offers
special rooms for girls
, with hair straighteners and fluffy towels provided. Even more amazing.
There are staff at the reception 24/7, and they were all delightfully friendly and helpful (all English-speaking too.) On the night we arrived we told them a light in our room wasn't working but that we didn't really need it immediately, and the next morning it was fixed. I would say the best thing about the staff was their willingness to oblige my need for tea: I'd brought my own teabags (obvs) and had some little milk sachet things (not ideal but hey), and the staff at the reception kept giving me cups of hot water from their urn. I can't even tell you how much this was appreciated by a tea addict like myself.
So overall:
PLUS Berlin
is an absolutely fantastic hostel, and I would recommend it to everyone, youths or otherwise. The PLUS company have other hostels all over Europe, so if you're planning on going travelling some time soon, why not check them out? I don't think you'll regret it.