Is this Banksy!?
As I was walking through Bristol Triangle yesterday morning, I spotted something unusual: a pair of street artists finishing off a new piece of work. Classic Bristol, eh? It must have been about 10.30am exactly (I know that because I was running a few minutes late for work, where I should have been at half ten. Oops.)
Standing on the roof of Bristol Fine Art Gallery near the top of Park Row were two hooded men – one actually doing the street art, head-to-toe in black, and another in grey, seemingly keeping guard. It caught my eye, so despite being late for work (sorry boss!), I stopped to take a few pictures. The man in grey saw me, but he didn't stop me, so I just carried on snapping away.
Could it have been Banksy? I don't know. I hope so! Some people have told me Banksy only works at night, so it must be an imposter. However, it was the morning, and they were just finishing the artwork, so maybe they/he (could Banksy actually be a duo?) had been working through the night. Or maybe it was a double bluff, as Banksy knew everyone else would think it wasn't him if it was done in daylight. Who knows? There were ladders up to the roof which were gone when I was walking back from work a few hours later, so it can't have been a spontaneous decision.
Add caption
Banksy being such an elusive character, there has naturally been much excitement around my snaps (felt pretty popular thanks to the photo's "likes" on Facebook and Instagram.) In fact,
Bristol Post
have used my picture and
ITV News
interviewed me briefly about it earlier today (just local West Country, don't get too excited), so if you want to hear a bit more about the whole scenario, tune in from 6pm today or check it out
online here
- they speak to a Banksy expert and everything. Shameless promotion, sorry.
Making my ITV News debut (and clearly very happy about it)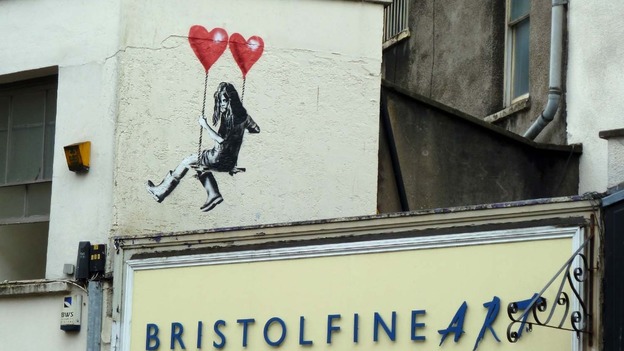 The finished work - pic by Nick George
Banksy or not, I like the new artwork anyway.