Hello, bliss
If you follow me on
twitter
or
instagram
, there's a tiny chance you may already know this, but just in case you've missed my barrage of smug tweets and pictures (sorry, ish) I should probably tell you I'm currently on holiday in Portugal's wonderful Algarve. It is LUSH.
I'm currently sitting on the balcony, with my feet up, overlooking a flawless blue sky, a bright blue sea and a white sandy beach. It certainly makes a change from my blogging spot of recent weeks - the kitchen table.
Looking very serious and focused on the blog
We're going out for dinner tonight (yay!), so I am in a comfy-yet-stylish pink floral maxi (H&M a couple of years ago) and not a scrap of make-up. I love the 'freshly-showered-and-moisturised' feeling at the best of times, but after a day on the beach, when your skin's been covered in sticky suncream, salty sea residue and gritty sand, that post-shower feeling is even better.
Ooh yeah
cleanliness.
To be fair, my make-up look is pretty low maintenance at home, but on holiday, I just cannot be doing with the stuff. Magazines bloody love telling us how to scale back our make-up - tinted moisturiser instead of foundation and waterproof mascara are musts, apparently - for the beach, year on year, but do people actually do that?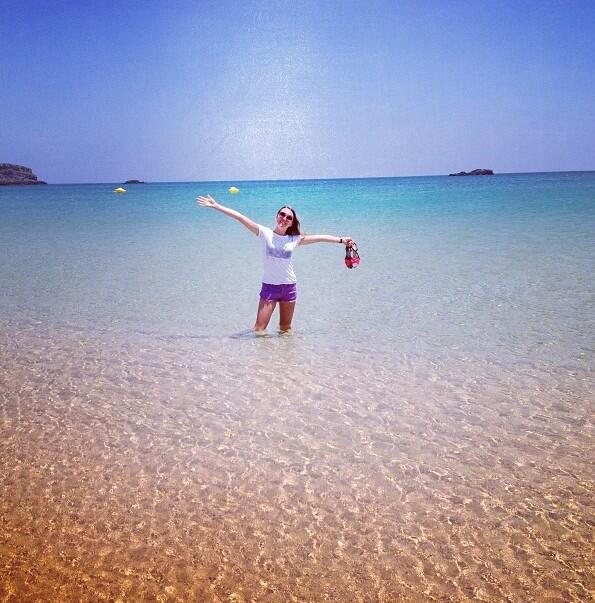 Loving life in the sea
Why would you wear make-up to the beach? I imagine it must feel horrible, mixed with sweat (unavoidable), suncream and sand. Mmmm nice. Half the time I'm lying face down on my towel (back tannage, natch), thus any make-up would be thoroughly shmushed. Yes, shmushed.
I love the beachy, boho, care-free, natural look. Your freckles come out (well mine do, and I love 'em), as do extra blonde highlights round your face, and you get a healthy sun-kissed glow going on. Combine that with tousled beachy waves (hair brush be gone!) and it's a good look as far as I'm concerned.
My and my sister's nails
I have to say that a strong mani-pedi (whether done yourself like me or professionally) is a must in my books, and you can definitely get away with extra bright colours when on holiday. That said, it's not like I don't wear stupidly bright colours at home too. I usually follow the rule of darker toes, lighter fingers, but this week I've gone for pale pastels for both, and both colours are from the
Barry M
ice cream colour range. God, I love
Barry M
. So damn cheap and so good. But I digress... As per...
Another thing I can't get my head round? Women who wear a load of jewellery to the beach. Just, WHY!? OK, I can kinda see why you might sport the odd plaited anklet or maybe a frayed bracelet that just never leaves your wrist, but today as I was swimming in the beautifully clear sea (I LOVE THE SEA!), a women paddle-surfed past me, as ya do, and I noticed she was wearing a beautiful silver (and expensive)
Links Sweetie Bracelet
.
I repeat: just, why?! I then noticed more of these women wearing their snazzy jewellery ON THE BEACH. Am I alone in thinking this is weird? Surely it's going to get all slimey? And c'mon, sand is a cheeky little thing isn't it? That stuff gets everywhere, in all the nooks and crannies. (Hence the joy of showering.)
Chilling in a beach-side hammock
In my opinion, scaling back the effort involved in your style aids with the whole relaxed holiday vibe. I'm a girl who loves style, accessories and doing her (albeit minimal) make-up, but on a beach holiday, it's a-whole-nother story.
Dewy skin, bikini strap-marks and golden highlights are all a-go-go. I only wonder how those
90210
girls manage to remain so chic on the beach in Beverly Hills...
(Did I mention I'm on holiday?)