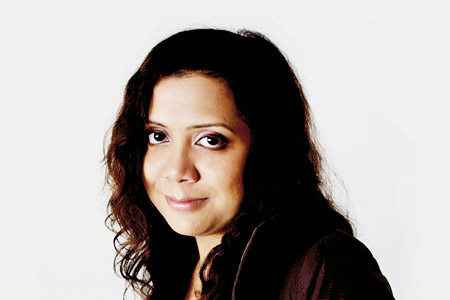 (Pic from emel.com)
Whether you're interested in journalism or not, it's undeniable that Roohi Hasan is a great role model – for women, students and oh, mankind in general I'd say. The story of her career is incredible. In her previous position as news editor of Five News, Roohi was voted media professional of the year in the Asian Women of Achievement Awards back in 2003, and since then, she's climbed even higher in the extremely competitive world of broadcast journalism.
What I find particularly admirable is the fact that Roohi has earned the respect of everyone she works with while doing so. Not to mention somehow finding the time to mentor and encourage new talent along the way. She is the perfect example of how determination and hard work can really pay off.
Roohi is one of the busiest people I have ever met, which is why I'm extra pleased she managed to spare a few minutes of her time to squeeze in a chat to me. Actually she gave up a rather large amount of her time.
If you want to know what it's like to work in the oh-so-exciting world of broadcast journalism, I suggest you quickly make yourself a cuppa, sit down, and absorb all the amazing insights and advice from Roohi below…
1. In a nutshell, what does a producer for TV news do?
A producer helps put together the reports that you see on the news, as well as helping in all sorts of ways that aren't always visible to the viewer. That can include coming up with ideas, setting up interviewees for the piece, filming, editing, doing the graphics, writing the presenter intro or fact-checking for the reporter.
2. How did your interest in journalism start?
I was about 10 or 11 years old when a friend told me she was a journalist for a local paper and had got to interview a band I liked, and I just thought that was so cool. It was the fact that she was a girl I knew and she was a journalist that made me think if she could do it, maybe so could I. So I did some writing (I wrote a letter to Bob Geldof about poverty) and by the time I got to my GCSEs I started doing work experience in the summer.
I applied to all sorts of places and didn't really hear back from anyone, but one day The Times emailed back to say I'd got a week there, so I did that. I also did my local paper which lots of people forget but is a great place to start because The Times obviously didn't let me write for them but my local paper did. I went to a features agency and did horoscopes and film reviews and things – I can't believe I still read horoscopes knowing that I helped write them!
3. Did you get involved with journalism at uni?
When I went to uni I was so busy trying to settle in that I kind of forgot that that was what I wanted to do. I chose a subject that I really liked and wanted to find out more about - International Relations - and that was quite helpful for news because it was all current affairs and I had to write lots of essays.
It was only in my final year that I realised "Oh my god, I want to be a journalist, I want a job!

Everyone else is getting taken up in the milkround for banks and consultancies! What am I going to do?" So I joined my university newspaper and I launched the radio station at the university even though it was time for my dissertation and my final exams. I'd been applying for work experience but again not really hearing back, so I decided to call back a few places, and managed to persuade a reporter at BBC Local News

in Birmingham to show me round for the afternoon and I loved it – that was my first newsroom. He was pleased to see the effort I'd made to come in, so went to the secretary organising work experience, asked where my application was – it was somewhere at the bottom of the pile – he had her move it to the top and I got work experience over Easter of my final year.
I'd also applied to

Reuters TV

but had no reply, and when I called up to ask why, he said "Oh, well, you could come in now" so I got special permission from my tutor and went and did that. They kept saying "sit and observe" but I was trying to talk to as many people as possible about how to get into TV. Whilst I was there, I realised Reuters is an international company so I applied to their LA office for an internship and I went and did that.
4. Amazing! So how did you get into broadcast journalism after uni?
When I was graduating I heard that

Channel Five News

was being launched, and I was stalking the guy who was running it but couldn't get hold of him – I felt I made about 30 calls until the guy answering the calls told me he was actually the recruitment manager and said "How can I help?" So I said I'd really like some work experience and he said I should send in my CV.
Within an hour of sending it in he called to say that they had a vacancy for the junior most role, a News Assistant, and to come in for an interview. The Human Resources officer said

she was impressed to hear I'd called so many times – they didn't think it was too much like stalking luckily!
I got in at runner level and it was a brilliant experience. After the launch, the role of Junior Producer came up within six months and I went for it and I got it – I was very surprised because I was the youngest there. Then within a year a Producer role came up and I got that.
5. Wow! And how did you get from there to where you are today?
So I was there at Five News as a Producer and my senior colleague thought I should try News Editing. I have to say that as much as I was enjoying producing, I wouldn't have tried News Editing myself because it's quite a senior role.
News Editors have a completely different perspective – they're providing the stories for the Programme Editors, dispatching the reporters on stories that they think are important, making sure the major news events are covered by cameras, chasing the interviewees… I wouldn't have thought I was ready for it but she did, and so I was Deputy News Editor for a while.

I had to learn to be a lot more forceful

which was an interesting learning curve.
I became the News Editor next, running the news room, home and foreign, during the Gulf War and the war in Afghanistan. It was also quite a big learning curve as

I was news editing when 9/11 happened, a day I will never ever forget, and it was all pandemonium.
6. I can imagine. So how did you end up moving back from News Editing to producing?
I was enjoying it but

I was moving away from the kind of journalism I wanted to do, which was being as close to the story as possible. If you're looking after seven stories in an overall supervisory role, you're not getting involved in detail in those seven stories.
So I went to

Channel 4 News

and worked on their foreign desk as well. By the time I went to

ITV News

I did think about News Editing but I'd be missing out on producing stories. So I started producing again, but this time more out on the road – coming up with ideas, planning them, filming, directing, coming back, editing, sometimes helping write the scripts for the reporter.
So that's mainly what I've been doing for ITV News as well as working on News at Ten. That has its own fulfilment because

News at Ten is our flagship programme. What's brilliant about my role is you're seeing a piece through from the idea all the way to when it goes out on air, and it's been like your baby.
And I've been doing special series which have been really fulfilling careerwise – last year one of them was nominated for an award.

Working on the Paralympics last year was just so amazing

to work with these inspirational people. Or even things that just get people talking.
7. It sounds brilliant. Could you pick just one best thing about your job?
It sounds cliché but probably just the variety of what I do. It's just great that it's constantly changing.

You just never know what story you're going to work on next, and I think that's great. I've never felt bored because the role is never fixed and that's brilliant, I think.
8. Given a story can break at any moment and you always have to be ready, is it hard to balance work with the rest of your life?
Yeah absolutely, that probably is the hardest part. Even though, as I've gone through my career, I don't now have to work nights and weekends like I used to, but

on big breaking news stories sometimes you have to be available if they are your stories. It's up to you to see it through.
And equally, if a story is going to be going on from lunchtime through to News at Ten, that is going to be a day you finish late. Occasionally you look at people doing a 9-5 job and think "Wow, that's so cool," but then I remember that I was the girl at school who unfortunately said "I don't want a 9-5 boring desk job." I got what I asked for so I shouldn't complain.
I've been lucky enough to do a lot of foreign travel, it's a good thing I love foreign stories. Everyone loves the excitement of something breaking and being sent across the country or the world.
I think the balance is important, and it's hard sometimes, but I think people automatically assume journalism is unsociable hours. I think what they don't realise is that you can make it work for you but you've got to get in and do the initial hard work.
9. Absolutely. Moving on to talk about getting into the industry - Is there a lot of overlap between the skills needed to work in print and broadcast journalism?
There are basic writing skills that are needed for both. In print though, it's predominantly writing so you'd be very exposed if yours wasn't up to speed. In broadcast, because of the variety of roles, you could end up as the cameraperson or the graphics designer or the researcher. You could end up as what we call "the presenter friend" on the road, making sure the satellite trucks are there, the presenter has their scripts and the latest news headlines are being followed.
So there are various roles, but

writing and having good news judgement is at the very heart of it.

With someone doing work experience, whether it be print or broadcast, those basic skills would emerge pretty soon as to whether they are suitable for journalism or not.
10. Brilliant. And finally, what advice can you give to those of us who want to break into broadcast journalism?
Don't assume it's impossible. Unless you can't spell a word or you have no interest in it, I think that anything can be possible. The main thing is, try it out first and see whether it's for you.

Try and get work experience in a newsroom.

Don't always assume you can walk straight into you first work experience in broadcast journalism. As I mentioned before, I went from local paper, to national paper, to features agency, to local BBC News, and that took quite a few stepping stones.
Don't think "broadcast journalism is glamorous and I'm not going to go to my local paper because that's not where I want to end up." Right now there are so many online sites for every newspaper and every TV station.

There are web producers and whole new roles that weren't around when I was starting out. So I definitely recommend getting involved with that and blogging like you do!
The main thing to remember is that some people assume that if they don't get in at the first try, they'll just give up.

You need to keep trying because you need them, they don't need you, and if journalism is what you want to do, then the ball is in your court.
What great advice, thanks so much Roohi! I know I'm feeling inspired.