As a girl who loves both handbags and organisation (oh and alright, cupcakes too, but that's by the by), I was very excited when an email about
Smythson
's new collections pinged into my inbox.
Oh, dear friends,
Smythson's new Eliot collection
is just beautiful! It's all smooth, supple leather and rich autumnal tones - prepare to be hit by a big ole wave of bag lust. Behold:
This midnight blue tote is totes my fave. (Couldn't resist, sorry.)
Ooh actually I think I prefer it in this Prussian blue colour!
The new Eliot mini tote
has five pockets and a very practical detachable shoulder strap. My favourite touch of all, however, is the striped cotton lining.
Structured but made with soft leather, doesn't it just ooze sophistication? And wouldn't you just love to be the girl who whips out a matching purse to pay for her Pret skinny latte?
When I think of Smythson, I think of the stylish, sophisticated, elegant woman I aspire to be. It's all so beautifully well-made, which is really important to me.
Now, I love a pretty bag as much as the next girl, but as well as good-quality leather and craftsmanship being right up there for me, a handbag has also got to be practical in my books. Well, it would actually be my books in my handbag. Moving on...
Just beautiful
My point is that I need a bag with pockets, with compartments, and ideally, I'd like to have matching cases for my various pieces of technology, thank you very much. And, if you have the money, this is where Smythson steps in.
Their
pouches
are so versatile that they could be an extra in-bag purse for valuable, an iPad case (and I am now a proud iPad owner...) or a clutch for evening. Rachel likes this versatility a lot.
I don't think I'd buy one of their pony handbags (not just because I can't afford one), but I'm definitely going to be dreaming of the leather bags tonight.
As well as their beautiful handbags, Smythson have been making
diaries
for over 125 years, with all the same elegance. Shall we have a gander at their 2014 collection? Yeah, go on then...
So beautiful,
non
? And so many different sizes, which is great. A diary is a very personal thing, in my opinion. Whether you use yours for jotting down thoughts and feelings or just organising your life, you need one that fits your lifestyle. Smythson certainly cover all bases.
Me? I like a diary to be small enough to fit in my bag and carried round all day, but big enough to have enough space for all my plans. I make a lot of plans.
And again with the practicality:
A simple, clean layout, days of the month at the bottom, and a ribbon page marker as well as tear-off page corners so you never have to faff around finding your place.
And I LOVE
the new Soho Diary
with its list of days and dates at the beginning and in-built to-do list. I can't get enough of my to-do lists: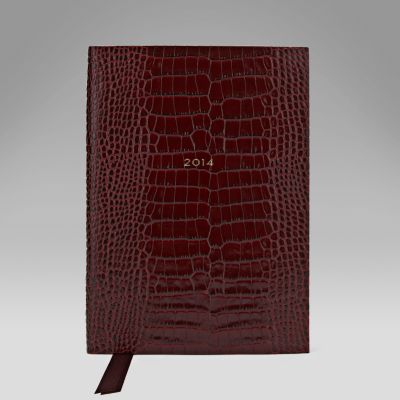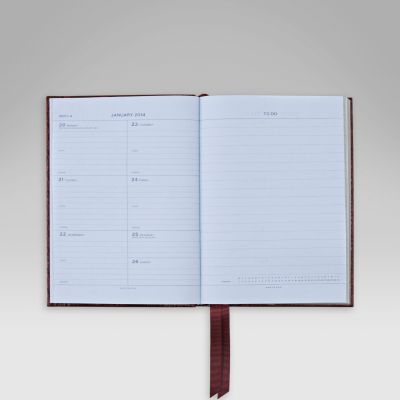 I think if I had a diary this beautiful I would feel inclined to write in an old ink pen and learn swirly calligraphy.
For the ultimate finishing touch, you can have your diary personalised with your initials in gold or silver leaf. Oof, I'd like that an awful lot.
At the moment though, my student budget is keeping me admiring Smythson from afar.
*sob*
Hopefully some day I'll be able to afford my own piece of the brand. If you had an unlimited Smythson budget (a girl can dream!), what would you choose?
Have a peruse at smythson.com.