So, I definitely wasn't going to let this fab offer pass me by, and as two stylish satchel-owning ladies, Tanya and Ellie were keen to take advantage of it too. We rearranged our plans and organised the whole day around getting our satchels embossed, as this was the only day in August we could make it to the store.
When getting your satchel embossed, you can choose both the colour (there are handy examples to see what different colour fonts look like on different coloured leather) and whether you want dots between your initials or not (if you're having initials, that is.)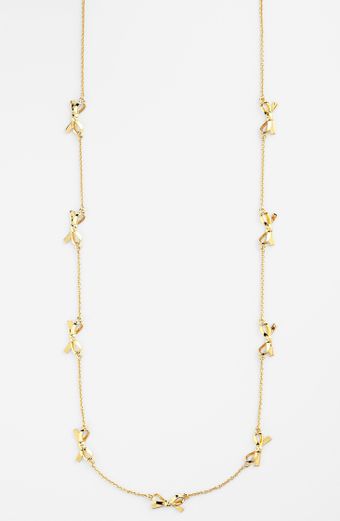 The gold Skinny Mini Long Station Necklace
Every girl needs a pretty necklace with which to mindlessly fiddle.
An hour or so later, four excitable girls (poor satchel-less mama was even excited too!) popped back to the CSC store to pick up our satchels. And boy, are we thrilled with the results.
Three happy girls, three lovely satchels.
I loved my satchel before, but now I love it even more. The embossing is so special, and it's so nice to have my own personal, unique bag.
It was a good flatbread. Needless to say, I was loving life.
One of the dresses in the Fashion Rules exhibition
Before we knew it, the afternoon was nearly over and it was time for afternoon tea. Having looked at a map, I had come to the conclusion that the hotel wasn't too far away. I was wrong. But it was a glorious day and we were only a teeny bit late so it didn't matter. I thoroughly enjoyed our stroll through the park and by the oh-so-snazzy houses of Kensington, Knightsbridge and Chelsea. Oh, to live there!
The Cadogan
And look at that, I'm modeling the Kate Spade necklace.
Feeling happily full, it was time to head to the last stop on our journey of London birthday fun - to the theatre!
Now, I'm no theatre reviewer, so I'm not going to say too much. But I will say that we loved it. The play is in no way a happy-clappy, feel-good performance (head on over to Hairspray if that's what you're after), but it's intense, interesting and really thought-provoking.
Pic from the official website
I probably don't need to tell you that this was probably one of the most fun days of my life, and I'm feeling very lucky indeed to have had such wonderful birthday presents.