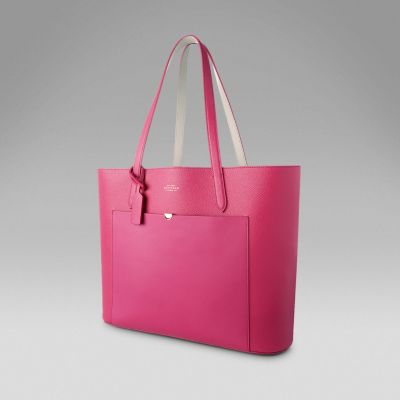 Men, friends and work can cause a lot of stress in a girl's life. But do you know what does the exact opposite? Of course you do: tea.
But aside from tea: cake.
Okay okay, but maybe third in line: handbags. Oh yes.
A handbag helps you stay organised, keeps you in control, and simultaneously distresses and prettifies your life. A multi-tasker to give most women a run for their money! A handbag won't say one thing when it means something else (ahem, girls), it won't mess with your head (boys) and it will always fit. Alas, the latter cannot be said for that new LBD you bought for the party season. (But I know, a gal's gotta enjoy the mince pie season, no judging here.)
Alas, this poor student can't really afford to treat herself to a shiny new handbag just for kicks, but I'll gladly add one to my (optimistic) Christmas wish list.
Behold, the current object of my desire: The
Smythson Panama East West Tote in fuschia
.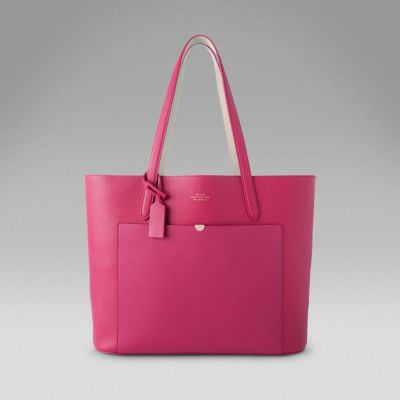 Beaut
Well hello there, pretty lady.
Gorgeous leather, fabulous colour, strong structured shape, delightfully roomy. Oh yes, this would brighten up any dark wintry day.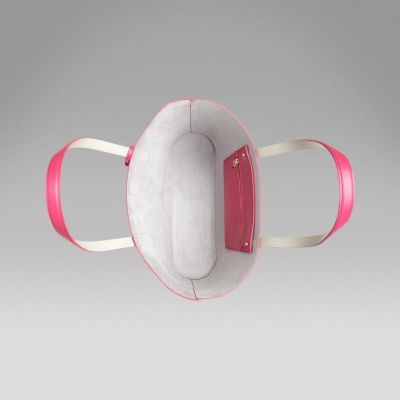 Capacious
I mean it's not like I don't already have multiple bright pink bags but THAT'S NOT THE POINT! (Ssshhh, dad.) I don't have one like
this
. And well-made handbags really
are
investments. They last longer than clothes or shoes, and can often become quite sentimental. They go with you everywhere. They are your comfort blanket. When you've got your handbag, you know you've got all your stuff. Whatever the day throws at you, you'll be ready to face it thanks to your well-stocked handbag.
This beautiful pink lady (HA!) would certainly allow you to carry round your daily essentials and then some – it'd definitely pass the water bottle test, which is a must, in my opinion.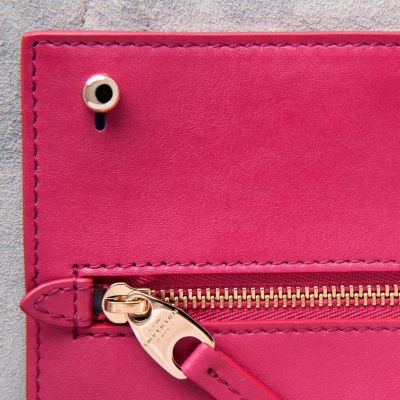 So beautifully made
I can almost smell the leathery goodness!
I love a good tote, too. So practical and so easy to get into – as much as I love satchels, fiddling with buckles does get a tad annoying. It probably adds a whole MINUTE to my day. GAAAAD life is so hard.
The East West tote is chic and ladylike so would add a touch of class to a simple blouse and jeans for day time, but if I were an exciting, stylish, pencil-skirt-wearing powerhouse of a business woman in London (who lunches at Pret on a daily basis, natch), I would certainly take this baby into the office to add a colour pop to a monochrome outfit. Ooh yeah, I can see it now.
I hate to say it as it's such an overused cliché, but I reckon this bag really could take you from day to night. Provided you weren't going to a grotty former skate park of a club by night (don't ask – Bristol students will know what I'm referring to.)
There aren't that many women who carry round bright pink handbags, but I think more of us should do. They cheer up everyone, and although I'm not expecting to find this beautiful tote in my Santa sack under the tree this year, I thought I'd share it with you anyway. Because it's so pretty. And we all love pretty things, right?
If you were feeling generous (hi), or wanted to add the aforementioned bag of loveliness to your own Christmas list, you can find it on the Smythson website for £550
here
. Oh, and you know there are other colours too. Go crazy! Get them all! ALL THE HANDBAGS!
Sorry. I'll calm down. Happy list making!