The more I see of Brussels, the more I like it. Not that I didn't like the city when I first arrived, oh no, but I guess I wasn't sure what to expect. It definitely has charm, yet is a bit of a grower I'd say.
I love the fact that there are so many different areas, each with a different feel, vibe and style. That said, approximately 92.6% of buildings throughout the city seem to have balconies, which I think makes them all very pretty indeed.
Sure, there are a couple of little things I'm realising are not so great about Brussels... Like what, you ask? Well, the water. It's totally drying out and messing up my skin, and it makes my tea taste weird. (A big problem, I'm sure you'll agree.)
Equally, most of the time the weather forecast seems to be simultaneously sunny, cloudy and rainy. How helpful when outfit planning (#organisedgirlproblems). The thing is, there have been occasions where I've noticed it really
has
been sunny, cloudy and rainy at the same time, so fair play to the forecasters, I guess.
And they're about the only negatives I can come up with about Brussels so far, so you could say I'm rather enjoying living here.
You're never far from a waffle and I love it.
As a full time working girl (get me), I obvs don't have time to go off exploring Brussels during the week - hello, who's going to be on
Merkel watch for the BBC
if I wasn't here? - so I'm going to really try and make the most of my weekends. Even if after a long week of work it's rather tempting to lounge around in your PJs for most of the day.
Actually, I do have weekday evenings. And the thing about living in a city is that if I just slightly alter my walk home I inevitably stumble upon interesting things. Like shops. But I digress... Back to my weekends.
After a long week and two particularly busy days covering
the EU Summit
, by Friday evening last week I was - to use the technical term - totally pooped. Aside from my 80 mins daily walking (to work and back - I'm not exactly going to pay for public transport now, am I?), I'm struggling to find the time and energy to exercise as much as I used to. It's actually a bit ridiculous how much effort it required to get me into my trainers after coming home from work on Friday, but I eventually did get out the door for a little jog and boy, am I glad I did.
The sun was just setting on a wonderful clear evening and I got the chance to discover some more of my new neighbourhood while getting a spot of exercise at the same time. When I wasn't stopping to take pictures that is.
That Friday evening buzz was in the air and the park was full of happy people and cute dogs.
Brussels seems to have an extremely pleasingly large number of
markets
- from food to flea - so after a thoroughly enjoyable lie-in the next morning, I set off to find
the Marché de la Place du Grand Sablon
, an antiques market, largely because it's one of the few that are open all day and I hadn't had breakfast till noon.
In a beautiful open square just down from the church (Brussels also seems to have a lot of squares and churches), the market is an antique hunter's paradise. You can find
jewellery, crockery, cutlery, books, paintings, maps, furniture and more
. And it's all old and pretty.
Unlike a lot of markets, everything is beautifully laid out and you don't have to elbow your way through crowds just to get a look at the wares. As far as markets go, it is
très sophistiqué
.
I had a lovely time rummaging through the jewellery, perusing the posters and practising my French with the friendly stall owners before wandering further into the city centre, popping into interesting boutiques and cute little places as I went. I didn't have any particular destination in mind, but isn't it wonderful just to wander, stroll and explore by yourself?
I was alas admiring the Louboutins from the window
Before I got very far though, I stumbled upon what looked like
a very popular frites van by the Chapel
. Considering I hadn't had lunch and disregarding the fact that I'd only had breakfast at noon, I decided a warm cone of chips was just what I needed to heat up my fingers (and tummy.)
Of course, the frites were as fantastic as you'd hope from Brussels, but can I just draw your attention to the awesomeness that is this cone with its little sauce cup?!
People, this is a SMALL!
Ingenious frite serving from the Belgians. It holds just the right amount of sauce too. While it may look like I was having curry sauce, this is in fact
Belgian barbecue sauce
. Who knew it was different to ours? Curry sauce is, unsurprisingly, one of the dozens of sauces on offer though.
Next, I of course needed a little something sweet for pudding (duhh.) Good thing I'm fast becoming an expert on
the best chocolate shops in Brussels for free samples
! It's slightly ridiculous how much you can eat if you know where to look - I don't think I want to see all the chocolate I ate piled up on one plate!
Easter here is going to be epic.
Happily full of chocolate and chips (I had a healthier dinner, don't woz), I carried on exploring, most pleased to find a fair few vintage shops.
As the afternoon wore on, I started heading in the homeward direction, conveniently walking down one of the main shopping streets in the city. Just look how that worked out...
I love the
Zara
look, but I never usually actually buy anything in there. I've just always thought I'm not quite at that stage of my life yet. However, now that I'm (temporarily) a working girl, all those sleek, chic coats, blouses and tailored trousers suddenly seem more appealing.
Having nearly but not quite bought various little things over the course of the afternoon, I figured it was much better to treat myself to just one item - more expensive but beautiful, well-made and which I really love. Behold: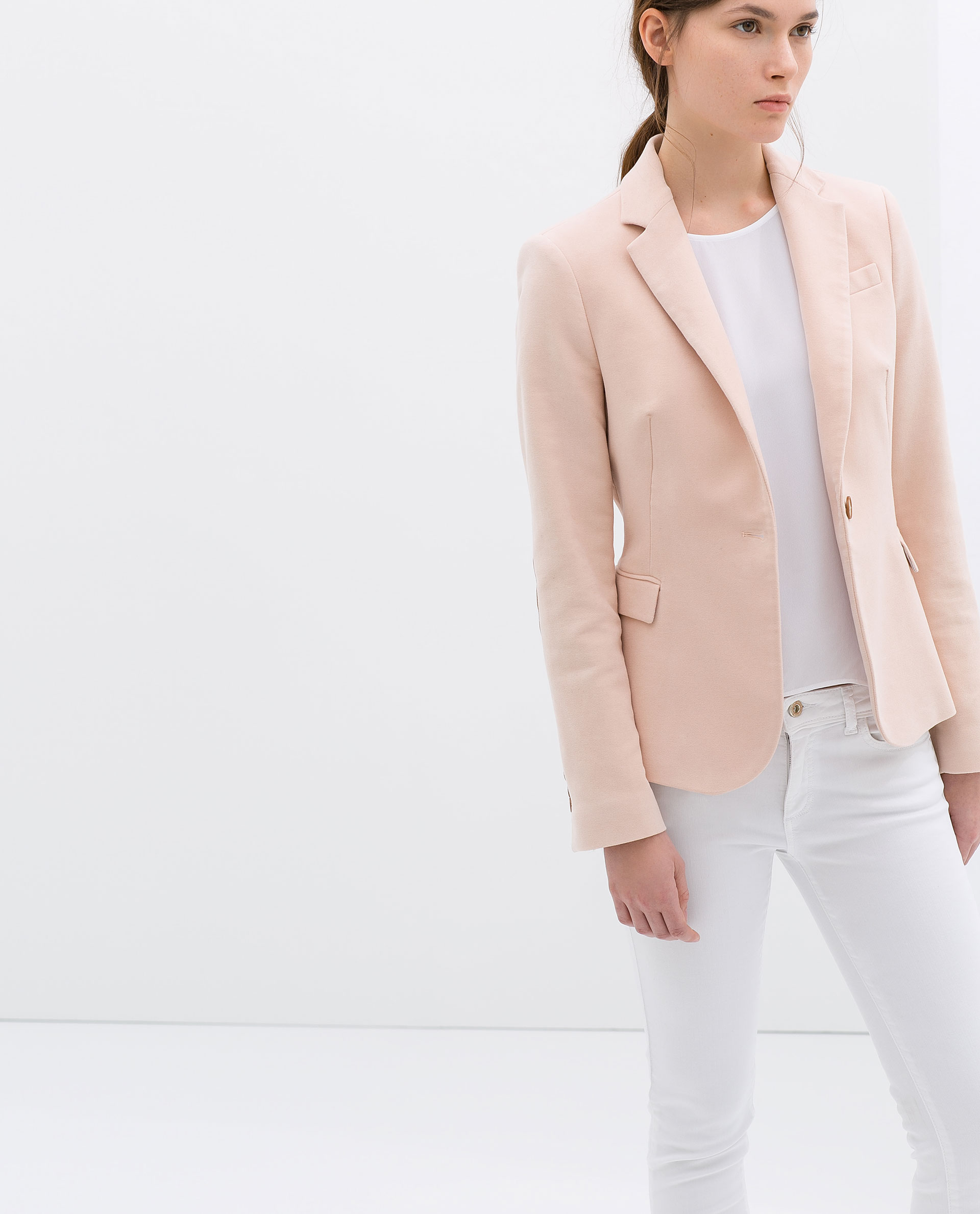 I don't know who this gal is but she models it far better than me.
It's made of lovely moleskin in a totally me and super springy shade of pink, with a lovely stripey lining and brown leather elbow patches. Over a floaty blouse and skinny trousers, once the weather's warm enough, I can see it becoming a staple in my work wardrobe.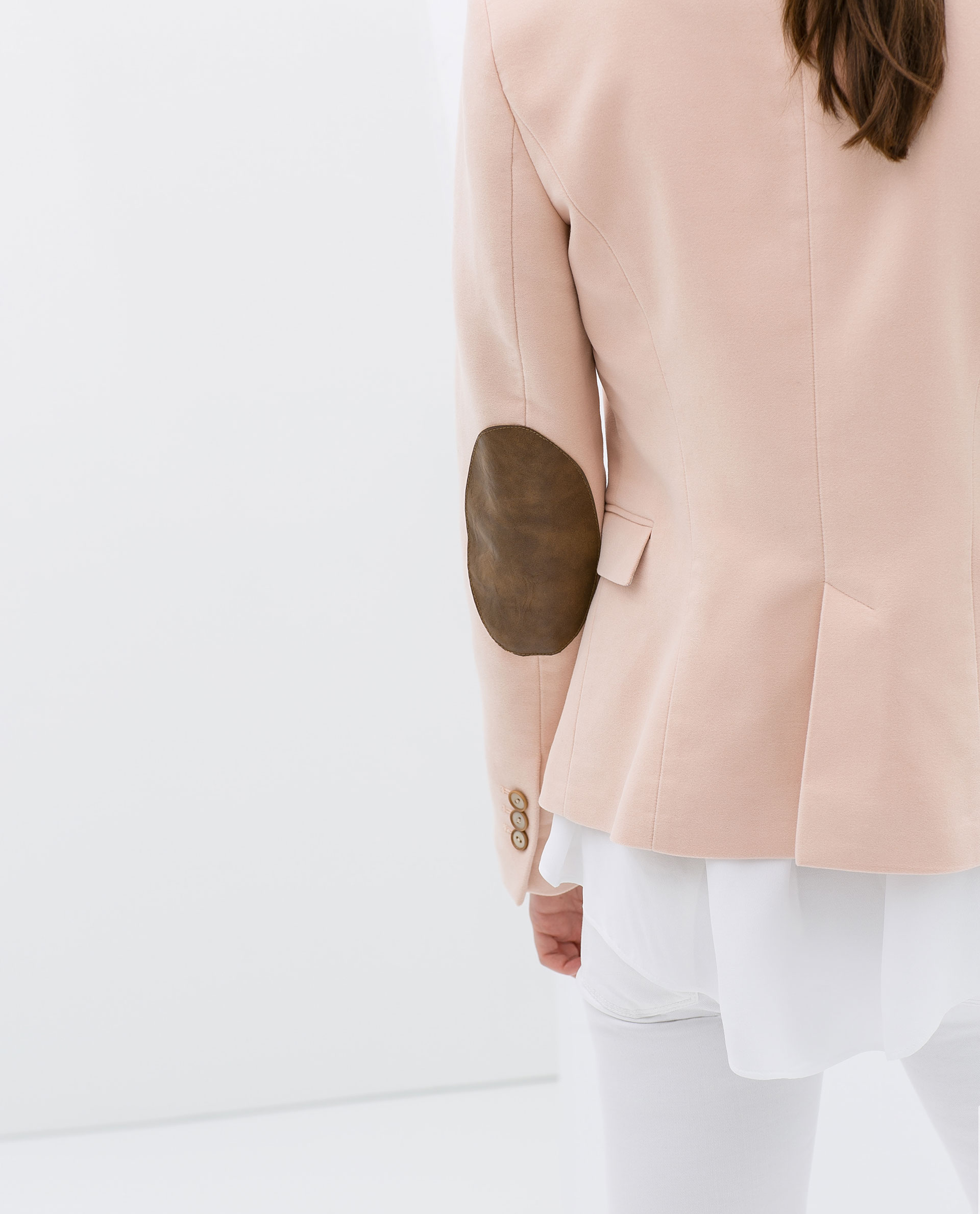 Big fan.
Sorry guys, I can only seem to find it
in blue
on the website, should you be interesting in getting the same one! (But it is a very tempting blue, I must say...)
Another sunny day, another market to discover. On Sunday I had a very different market experience from the sophisticated antiques of Saturday.
First up, I accidentally stumbled upon the
market at Parvis St Gilles
. Largely food, here I found tons of
fresh fruit and veg, baked goods, cheeses and meats as well as flowers and your classic market clothes
that I swear no-one buys.
Naturally, I strolled through eating all the free samples, and compared to supermarket prices, everything seemed super cheap, YAY!
I just couldn't resist the temptation of a punnet of big, bright, luscious strawberries, and the kind man even added a few extra on top. Win.
Little did I know I was about to encounter even cheaper prices at one of Brussels' biggest markets, the
Marché du Midi
.
Oh my days, this place is crazy. There are so many people, all barely moving, the stall-holders are shouting out at you as you pass and, put it this way, I felt like I wanted to hold on to my bag.
All that considered, there really are some
fabulous bargains
to be had on a massive array of fresh fruit and veg. And my favourite part?
SO MANY FREE TASTERS!
I kid you not, I must've had at least three fruit salad portions' worth of pineapple, mango, orange, clementines, pears, plums, strawberries and sharon fruit.
And speaking of sharon fruit, I for some reason was drawn into buying 15 of them for 3€. No-one could say that isn't a great deal (especially considering I used to see them for over 3€ each in Germany!), but who on earth wants 15 sharon fruit? What am I going to do with them?! Well, it's a good thing I like sharon fruit. I've eaten three today so far and it ain't bedtime yet!
The challenge will be to eat them all up before they go off - my strawberries turned very quickly but I assume that's because they aren't sprayed with goodness-knows-what.
When confronted with so much delicious and bargainous fruit and veg, I had to try seriously hard to resist buying a whole fridge worth (which would've been awkward considering all I have is an eighth of a fridge.)
I'll have to go back for the roses...
I did, however, allow myself to indulge my love of pink flowers, buying a beautiful bunch of tulips and a big speckly orchid to add some more colour and personality to
my new room
. Both were total bargs as well.
Arms full of lovely things (who knew sharon fruit were so heavy?), I pushed through the crowds and headed home.
According to my housemate, the trick is actually to go riiight at the end of the market when the prices are slashed even further, so I think that's what I'll try to do in future.
I am a huge market fan, and I cannot wait to discover the many more Brussels has to offer along with even more of the city. You know I'll keep you posted on any gems I find!
I heart Bruxelles
A tout à l'heure!