10 years ago, my younger sister Holly and I went to our first concert as a treat for her ninth birthday. The band in question were without a doubt the 1D of our childhood, the object of the posters covering Holly's walls (I was far too cool, ahem), the cheeky boys we wished were in our classes at school:
Busted
.
Taken along by our (considerably less excited) mother and with Holly's best friend too, that night in Birmingham was so much fun - I still remember certain parts. There was this unheard-of, new band called
McFly
as one of the support acts, and I decided there and then that I was a fan, going on to listen to their first album on my discman (those were the days, eh?) on repeat for MONTHS.
Yesterday, Holly and I went back to Birmingham (driving ourselves this time) to relive the glory days. And it was even better.
Let me tell you,
McBusted
were
so
worth coming back from Brussels for, and it's little wonder the tour has been a sell-out.
If you've been living under a rock for a few months and haven't heard of McBusted, well, I'm so sorry for your loss. McBusted are, obviously,
a supergroup of McFly and Busted
, except minus Busted's Charlie (he of the eyebrows, waaaaay before Cara).
I'm still kind of
angry at Charlie
for not joining in. No, not angry, just disappointed. He wasn't even my fave (that was James), but it just would've been that little bit better if the band were all together again.
That said, considering the show I saw last night, I'm not sure it
could
get much better.
In short:
McBusted. Were. AWESOME!
We arrived at the NEC on a beautiful summery evening along with gaggles of girls similar in age to us, all as excitable as
me
13-year-olds at a 1D concert.
Sure, there was the odd token male and even a few families with young children, which struck me as slightly odd. I don't deny that a trip to McBusted would make a nice family evening out, but I think the whole reason McBusted have taken everyone by storm is that they're mainly catering for all those girls (like Holly and I) who were
heartbroken when Busted split up
back in 2005. I just don't think audience members who weren't fans the first time round are going to have as
much
fun.
Still, we all took our seats, impatiently waiting for the show to begin. After a few warm-up bands who failed to impress me, IT WAS TIME!
*squeal!*
When those men-acting-like-boys jumped out on stage (half from a flying car, of course - the Flux Capacitor, I imagine), 97% of the women in the audience turned back into girls. I know I spent the next hour and forty minutes
acting like a hysterical pre-teen girl
, and it was so so very much fun.
Tom, Danny, Dougie, James, Matt and Harry looked like they were having the time of their lives up there, and as a result, so did we. The boys ran around the stage like teenagers (Harry less so, being somewhat stuck to his drum-kit), played around, teased the audience, and threw in
Busted jumps a-plenty
, much to our delight.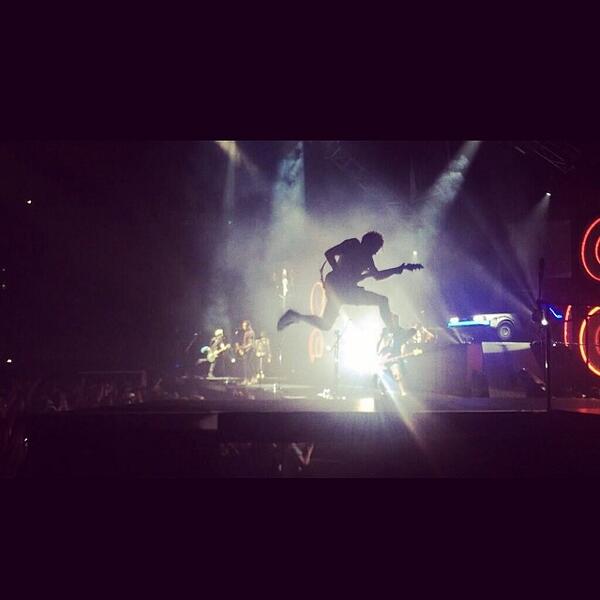 They did all the hits and there was definitely
more Busted than McFly
- I love McFly too, but frankly, I think they knew what the audience mainly wanted. The atmosphere was amazing, and here's a little video of
What I Go To School For
just to give you the tiniest idea of the fun we had...
Ahhh it just makes me smile!
To be honest, I think part of the reason we love them all so much is that they're all kinda
so lame that they're cool
. (I like to think I am too but I'm probably just lame.) If you look at them now, they're such a mish-mash and don't look like they should go together as a group, yet somehow, they totally do. Watching a McBusted concert is like watching a load of mates having a laugh.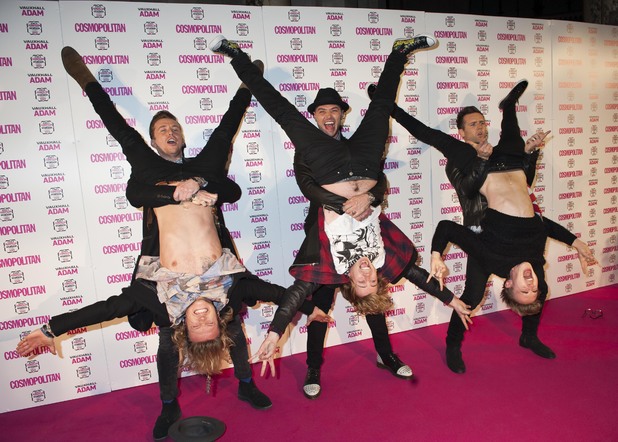 We love McBusted because they're weird and fun
The whole concert was such a show! They made it really entertaining, and so much more than just a concert. There were:
Funny, clever videos (for example a parody of Tom's famous wedding speech video to lead into Crashed The Wedding)
Light-up guitars
Giant inflatable triple boobs (Busted fans will know what that's referring to)
Dougie singing Celine Dion's My Heart Will Go On in a hilariously high voice
Dougie wearing a horse's head
Matt in a wedding dress
Fire, sparklers, confetti, streamers
The boys hitting scrunched-up T-shirts out to the audience with tennis rackets
An AMAZING dance routine to a Jackson Five cover (well, why not?)
The dancing to the latter was actually one of the cutest things I've ever seen.
Having a great time
The best part though? No question.
Mid-way through the concert, McBusted left the stage and we were shown a hilarious video of the guys dressed-up as hill-billies and other random characters (basically, they looked like idiots and just took the p*** out of themselves which was so funny) all claiming to have seen a UFO.
Everyone's eyes were fixed on the giant silver UFO-like thingy on the ceiling above the audience RIGHT NEXT TO HOLLY AND ME!
"OH MY GOD! THEY'RE GOING TO BE ON IT! THEY'RE COMING DOWN! OH MY GOD!" We screamed at each other and tried to remember to breathe.
And sure enough, McBusted descended on that UFO to perform three songs beautifully close to us, kicking off with - you guessed it - McFly's Star Girl.
Naturally, I got a bit over-excited and snap-happy...
Hey, Tom
JAMES!
I was particularly pleased as my old-fave James was riiiiight in front of us. Sometimes, as a girl, you don't really know why you love a certain boyband member more than the others, but you just do, don't you? (Who was your fave?)
Aaaanyway. After a thrilling three songs, the boys ran down off the space-ship, past our block and out of the arena. Luckily they were back on the main stage a few minutes later. Phew.
Very few people at concerts actually get to see the artists close up, and of course, that's not what it's all about, but it isn't half exciting.
For the rest of the night we danced and jumped and screamed and sang (I seemingly lost all ability to sing in tune, as one does) and generally forgot about everything going on in the real world. We were school girls again, even if we now understand the lyrics a lot more.
Case in point: When Busted sing "You sleep around the town" in Who's David, I always thought they meant the girl in question was being a tramp and literally slept on the streets around the town (yes, I was a naive child). 21-year-old me now understands. 21-year-old me was also able to appreciate a topless Harry for the latter half of the concert. Just sayin', the audience was not complaining.
I think the reason we love them so much is because we
loved
them so much. Hearing the songs you grew up with and listened to over and over again is really comforting. You get
nostalgic
, and it makes you smile. Just like I do when eating Party Rings (you know, the biscuits that were a staple of every child's birthday party pre- the 'SUGAR IS YOUR ENEMY' days?) or watching
Pocahontas
.
Apparently McBusted are going to be releasing
new, original material
, so we'll have to see if they can woo us just like they've done by redoing the old classics (is it too much to call their hits classics?) we all love so much.
In my opinion, McBusted have used
social media
really well, both as a group and individually. They know that there's no better way to build up a fan base these days (hello, Directioners), and it's strange to think how different it might have been had Twitter been around ten years ago when Busted first appeared on the scene.
Well, Busted certainly didn't need social media to capture the hearts of a generation of girls, and judging by the screams from the audience last night, I think
McBusted
have done so all over again.