It's been a while since I wrote a fashiony post, hasn't it? All that travelling and eating has just got in the way, I suppose.
But as summer comes to a close, I always find myself wanting to refresh my wardrobe - yup, I'm already craving chunky knits, deep burgundy tones and cords. (Must resist whacking out the Christmas jumpers.) Oh, and a new handbag, of course. But that's a permanent state of affairs really.
Do you know, I haven't actually had a new bag for, like, four months!? Okay that's not actually that long, is it? Well it seems like ages somehow. Boy, have I used
my Longchamp
since I bought it though - it's just so lightweight and practical! Poor Mulbs and
Kate Spade
have spent rather more time in their dustbags over the past few months. I feel bad.
It's been two years since I bought myself
my Alexa
, my first proper handbag, and I
still
feel so much joy every time I take it out of its dustbag and get a whiff of that wonderful leather. Sure, she's looking a little tattier and scuffed now, but in my view that's just the sign of a well-loved bag.
Is it wrong how much I genuinely love my bags? Well if it is, I don't want to be right!
Tragically, I haven't been able to have all my handbags with me over the year abroad (stupid suitcases), and I have seriously missed the ones left at home.
Cambridge Satch
, I still love you, promise! Absence makes the heart grow fonder, right?
But I'll be home soon. And guess what, it's my birthday in a month. The big 2-2, wahoo! (Yup, I'll be singing
that Taylor Swift song
all year.) And hey, if a gal can't draw up a dream handbag wishlist for her birthday (to go alongside the blender, food processor and epilator), when can she?
If anyone's feeling generous, here's what I'm currently loving (in no particular order...):
1.
Anya Hindmarch Custard Cream clutch in pale gold
- £995.
OK, potentially more of a clutch than a bag but I don't care. Could this custard cream bag BE any cuter? Custard creams have always been my fave biscuits (bourbons are over-rated), and I've missed their quintessential Britishness over my year abroad. Anya Hindmarch is also such a fabulously British designer too.
I'd totally love carrying this clutch/bag to a formal evening event - the gorgeous metallic gold makes it formal and elegant, but the design makes it that little bit more playful and fun. It's sold out at the mo but I've joined the waiting list. Just incase I win the lottery or something.
2.
Ted Baker Isbell Crosshatch shopper in gold
- £149
Sticking with the gold theme, I am a big fan of this shopper from Ted Baker. I love all things shimmery, sparkly and shiny, and never confine them to evening wear. I love the simple shape of this bag which lets the gold shine away without being too bling-bling.
It looks jolly capacious which is just perf for a day bag, and I love the idea of the mini pouch inside - don'tcha hate it when you have a big tote with no pockets and thus spend hours looking for your lipbalm and keys every time? Totes annoying. (See what I did there?)
3.
Russell and Bromley Miniwillow
- £210.
OK, I know
I've blogged about the Miniwillow before
, but that's because I just can't stop loving it. Beautiful smooth leather, simultaneously structured yet slouchy, perfectly combining practical and chic.
I really should've just treated myself, as it would appear the burgundy one I've coveted for so long is now gone. Still, the sandy brown is rather tempting too, wouldn't you say..?
4.
Smythson Panama Large Tote in dark berry
- £795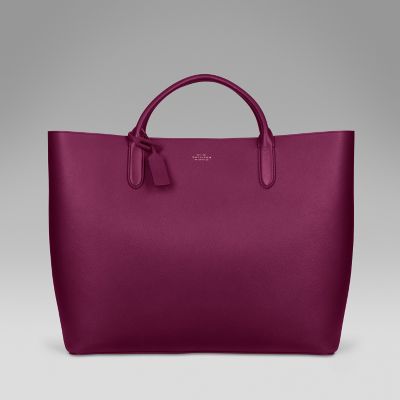 Another brilliantly British brand, everything Smythson just oozes quality. The quality comes with a bit of a price-tag though, so while I'm yet to own anything Smythson myself, I hope to one day.
How beautiful is this big tote though? I'm rather liking bags that are wider than they are tall these days, and I really like the simplicity of this bag. As a gal who often wears top-to-toe prints, spots, florals and stripes, I tend to opt for a plain-coloured bag. The rich berry colour would go with everything I wear and it's just perfect for autumn/winter,
non
?
5.
Mulberry Pembridge Double Handle Bag in Oxblood Soft Tan Leather
- £995.
I'm sorry, but this bag is just too lovely for words. It's definitely top of my wishlist! Mulberry has well and truly done it again. I love the gold details with the Oxblood, particularly the little Mulberry tree - a subtle sign that the bag's a Mulberry without being too inyaface.
It's the perfect size for a day bag and is also practical due to the zipped top and long shoulder strap. I also adore the plaited handles. Classy, chic and elegant - everything I aspire to be. Can't you just imagine Kate Middleton with this bag? Or me?! (Must remember I'm trying to keep my savings for travelling...!)
6.
Betty Brice
Hettie heart satchel in black - £95 (down from £185)
If I didn't already have my pink Cambridge Satchel, I'd be so after this in pink, but I really love the black too - it'd be a cute evening bag, wouldn't you agree? The simple cut-out heart adds a feminine touch to a classic satchel, and you can just tell they're made from beautiful leather.
7.
Louis Vuitton Lockit in Magnolia
- £2,400
A girl can dream, right? There's nothing like an oversized, smart leather bag to make a simple outfit suddenly look chic, as demonstrated beautifully by Carey Mulligan, above. I don't think I can say it any better than LV so allow me to quote their website:
"With its understated lines and style, the Lockit exudes feminine elegance. Soft, supple Veau Cachemire leather creates a lightweight bag that is practical enough to carry A4 documents and a laptop."
And it's pink. Nuff said.
8.
Kate Spade "Eat Cake For Breakfast" iPad case
- $85
Not a bag, I know, but I am rather keen on this Kate Spade iPad case. Sure, my iPad already has a perfectly fine (but boring) case and I already have the "
Eat cake for breakfast" mug
(PS good luck not feeling Christmassy if you click that link), but we all know style is nothing to do with necessity. And hey, as a girl who very often
does
eat cake for breakfast, it's a slogan to which I really relate.
The case is practical too, with a little stand to prop up your iPad. I could only find the price in dollars unforch, but that problem is soon going to be solved, my dears:
Kate Spade's UK website
is launching this autumn! Can I get a HOO-RAH!?
So there you have it, my fellow handbag-loving chums. Which one is your fave? What are you dreaming of at the mo?
Click here to vote Handbags and Cupcakes for "Best Lifestyle Blog" in the Cosmopolitan Blog Awards 2014!