Remember how I said St Suliac was so peaceful and quiet? Well St Malo is the complete opposite, but I liked it a lot. To be fair, we only visited the old town, but there was so much great stuff going on that I felt it was definitely blog-worthy. So here is the resultant blog.The title 'old town' is a bit cheeky really, as it's not actually old at all. It was old, then it was destroyed in World War Two, then it was carefully restored to look exactly the same. Amazing. The old town is just up from the River Rance, encompassed by ramparts, and is great for wandering round and exploring on foot. Just like all the prettiest Breton towns and villages, St Malo old town has granite buildings and cobbled streets a plenty. I like this a lot. Inside the old town walls, St Malo was fabulously buzzy and bustling with both tourists and locals (but probably mainly tourists to be fair.)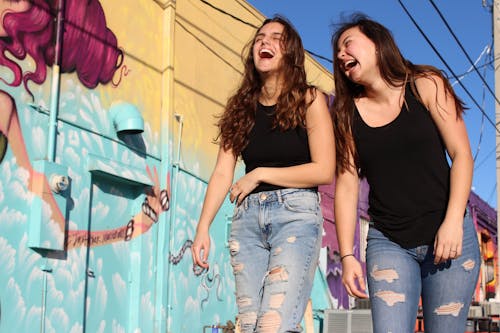 It's full of inviting-looking restaurants, bistros, brasseries, crêperies, biscuiteries, chocolateries and ice cream parlours. Phew. Holly and I wanted to go into every single one, and we nearly did, but unfortunately the 'I don't like sweet foods' father was getting somewhat bored by our desire to sample all the tasters. There were a lot of tasters. It was great. For example, check out this chocolate shop:I've mentioned how caramel au beurre salé is a Breton speciality before, but these are all different twists on chocolate spreads. Not like the chocolate spread you're used to at home though, but runnier, and super delicious. Think chocolate orange, chocolate caramel, chocolate banana, chocolate Speculoos and more. It was epic. In my opinion, St Malo old town is a slightly funny mix of up-market and somewhat tacky, but it totally works. Naff touristy shops sit side-by-side with Ralph Lauren, Comptoir des Cotonniers and Napapijri. I loved it.
As a Francophile, I always like finding things with French writing on them, and I particularly liked this little purse:Somewhat confusingly, a galette can be a biscuit or a savoury pancake, but I like both so it doesn't matter. Did you know 'miam' is the French equivalent of 'yum'? Well, if you didn't, now you do. I found the above purse in a really cute and quirky shop:A little further on in our browsing, we stumbled across an amazing jewellery shop. I'm a big fan of fine silver and gold jewellery, and I really loved everything I saw here. To be honest I'm a little sad I didn't get anything. Naturally, dad was loving standing outside the shops while Mama, Holly and I browsed as quickly as we could. Poor guy. Soon, it was time to head off, but not before treating ourselves to something yummy. Between crêpes, waffles,
ice creams and everything else, we were thoroughly spoilt for choice. But oh, I definitely made the right choice. Reader, I had one of the scrummiest things I've eaten in a long time. Behold, the Kouign Amann au Nutella:Um, a what what au what? I hear you say. Yes, a Kouign Amann au Nutella. The Kouign Amann is yet another Breton speciality (seriously, how can one region have so many specialities?). It's pronounced 'queen a-mahn' and you really need to get your hands on one. Made with layers of buttery, flaky pastry, it's a bit like a croissant, but at the same time it's deliciously chewy thanks to its caramelised coating. They were freshly made before our eyes.
The traditional ones are plain like this:
But when I saw that I could get one smothered in Nutella (I don't think there's any point trying to be healthy when it comes to something like this, you've got to go all out), I naturally opted for that. I really want to try an apple one too. Well you've got to take advantage of local treats when you're on holiday, haven't you?From doing a spot of research, I found out that the Kouign Amann craze has hit California recently, but I've never seen them in the UK before, have you? Just like how we jumped on the froyo bandwagon after the Americans, I'm hoping the Kouign Amann will soon be making its way to our green and pleasant land. To be fair, it's only got a short trip across the Channel to go…