Did you know that not only is Windsor Castle the oldest and biggest occupied castle in the world, but it's also the Queen's favourite residence? Well, now you do.The Royal Family's private quartersWould you believe it if I told you Windsor Castle was also my first home? No, I wouldn't either. Because I'm lying. Sorry. Lying is bad, I know. However, I was born in Windsor, and I did live there for the first two years of my life, so I feel like that gives me some sort of royal connection. Ish.Yesterday, I went back to Windsor for the first time in 19 years – trips to Legoland aside – and I loved it. Needless to say, I don't remember anything of my life in Windsor, but I'm now somewhat annoyed at my parents for moving us away. No offence, Leicestershire.Windsor is beautiful – all charming cobbled streets and hanging baskets, and of course, the wonderful Windsor Castle. As we have a German girl, Maren, with us this summer, we thought a trip to the oh-so-British castle was a great idea. And obviously, as a sucker for royal history, I was thrilled when Mama suggested it.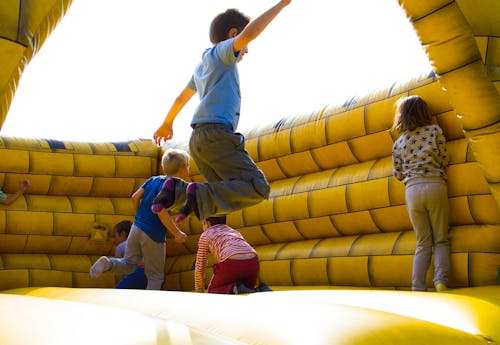 When we arrived, I was also pleased Mama had had the good sense to book our tickets online beforehand – there was a loooooong queue to buy tickets on the door.Audioguide on!In we go!The first thing we did when we arrived was the Conquer the Tower tour – a 200 step climb to the top of the Round Tower (which we learnt, incidentally, isn't totally round) – and although we missed our allotted tour by a couple of minutes, the wardens happily let us join the next tour.The Round TowerAfter (emotionally) saying goodbye to our handbags – luckily they were safely locked up in trunks – we started the climb in a small group with our guide. I really recommend the Conquer the Tower tour. Not only are the views around Windsor, across to Eton and all the way to London breathtaking, but we also learnt all sorts of interesting snippets about the Castle, its history and the Royal Family. And I mean really interesting things. Not the boring stuff you sometimes get on these guides. Look at these views!The Long WalkI thought it was great that we were asked not to take pictures inside the Castle or when we looked down into the Royal Family's private quarters (my earlier photo was totally allowed, don't worry!) And everyone completely understood, just out of respect and for privacy.
Here's a cool fact about the Castle: it's made out of stone containing silica which not only means it sparkles in the sun (further adding to the fairytale castle vibe in my head), but the stone is self-cleaning in the rain. How awesome is that? And jolly convenient. It really was all very clean.We stood gazing out at the views over the turrets, amongst the cannons, while butterflies, swallows and, well, planes, swooped over our heads, feeling truly Rapunzel-esque. Of course, super long hair and an equally long satin dress would have helped, but that would have just been uncomfortable and impractical, wouldn't it?'Rapunzel! Rapunzel! let down your hair!' I dutifully did so. Then tied it back up as I was too hot.Our tour guide told us that 'working' at Windsor Castle feels like being part of a family. Every year, the Queen gives every member of staff a Christmas present, and they have massive staff parties with all the Royal Family. Sounds like a lot of fun to me.Unsurprisingly, everything at Windsor Castle is wonderfully organised, with helpful, friendly wardens all over the grounds and inside the Castle. It's absolutely huge inside the outer walls! In fact, it felt like a little (extremely beautiful) village, minus the chippie, of course.In fact, although the Castle was full of tourists (inevitable on a sunny August day), it didn't actually seem at all busy. I also think it's great that there aren't lots of touristy shops or food stalls round the grounds – just a few beautiful gift shops and the odd ice cream cart. Royal ice cream made with milk from royal cows though. What else?
There are plenty of benches, bins and even post-boxes dotted around the grounds, which I think is great. To be honest though, although there were all sorts of different people visiting the Castle yesterday, I don't think it's the sort of place anyone would drop litter, as I really believe there's so much respect for the Royal Family. It's their home, after all.After a sit down, a snack and a people-watch, we headed inside to see Queen Mary's Dolls' House. It's amazing, and not like any other doll's house I've seen before. At nearly double my height and almost the size of my bedroom, it's unsurprising the Dolls' House took nearly three years to complete.We listened to our free audio guides and discovered all sorts of interesting facts while marveling at the detail in every room – from the running hot and cold water to the sterling silver plates in the dining room. It was really interesting to see what the layout of a monarch's room might be like.I loved this collection in the gift shop.Next up, we had a lookie at the Royal China Collection. As a tea party lover, I unsurprisingly adored it all. OK, some was totally OTT, but it was interesting nonetheless.
Afterwards, we wandered round the State Apartments. It was amazing. It's basically a really large section of Windsor Castle the public are allowed to look round, but is also where visiting heads of state and all sorts of other important people come for state banquets and the like.Naturally, the decor is as ornate and grand as you'd expect – incredible glittering chandeliers, huge four-poster beds and amazing paintings of important people from history adorning the walls. I felt like I'd gone back in time, and loved spotting things like secret doors and learning about how each room was used from my audioguide. I seriously recommend the audioguide, we'd've been lost without ours.I walked round beaming. It was so beautiful and so interesting. I love Royal history, and just thought it was incredible to be walking exactly where so many former monarchs have done. Since the end of the 11th century, Windsor Castle has been the home of 39 monarchs!
Mad.When you finish the tour of the State Apartments, you can sign up for free re-admission for a year, so naturally we did that, despite the fact I'm about to go on my year abroad. Quelle shame.St George's Chapel on the leftFeeling somewhat exhausted after all our walking, we had a quick look in the beautiful St George's Chapel before saying goodbye to the even more beautiful Windsor Castle and plonking ourselves down at a tea room for a well-deserved rest. Mum and I had four cups of tea. Each. Sitting outside at our table on the pretty cobbled street, a view of the Castle over the road and a cup of tea in my hand, it was delightful.After some much-needed regeneration, we headed off to explore the town that was once my home. It's adorable. Naturally, there are a lot of touristy shops around the Castle, but I have to say I love 'em. I'm a big fan of Royal memorabilia.
How cool is this phone box?
Hey Kate
Her Maj
Oh hiiiiii, Harry
And look at this pub! Fantastic.
We wandered round in the sunshine, admiring the architecture and popping into shops. Oh, and all right, the sister and I also popped into Shakeaway for milkshakes. We love milkshakes, and are pretty much incapable of walking past a Shakeaway without going in. If I have mine with froyo it's totally healthy, right?We then walked down to the Thames. It was sparkling in the early evening light, and covered in swans. Beeeaaaauuutiful. Over the bridge and into Eton we went. Who knew they were connected just like that? Oh, you did? Well I didn't. Moving on.
Pretty pretty flowers.
Eton is also very quaint. Well, what I saw of it was, decorated with Union Jacks and hanging baskets all over the shop(s). Naturally, Holly and I were keeping our eyes peeled for the Princes and Eddie Redmayne, you know, just in case they were visiting their Alma Mater, but we had to make do with a sighting of my old Geography teacher. Still pretty exciting, to be fair.
Windsor shopping
After strolling back into Windsor, we moseyed round even further. Strangely, we stumbled upon not one but two German bakeries, which Maren (and I) loved. Good preparation for next month, I suppose. (NEXT MONTH!? AHHHH!)
German treats
Flagging, it was definitely time for some dinner. So after some (OK, a lot of) well-earned pizza and pasta, we hit the road, but not before seeing our old house. How strange to have lived there for two years and have no memory of it whatsoever. It was a beautiful house.=The perfect end to a beautiful day. Isn't it funny how so many of us never really explore the amazing places to visit and things to do in our own country, yet manage to pack in so much more in a fortnight or so abroad? I love Great Britain and we have so many great things to see and do here. Yesterday's lovely day in Windsor reminded me of that. Don't forget the beauty on your doorstep – it's so easy to do.Does anyone have any favourite places to visit here in the UK? Or abroad maybe?Find out more about Windsor Castle here.