Everyone knows that Germans are big beer fans, and Munich's annual Oktoberfest is the biggest beer festival in the world. If you know me, you may think I'm not the most obvious choice of person to frequent a beer festival, as I'm really not a big beer gal, but last weekend I did indeed spend a very long and seriously fun day at Oktoberfest in Munich.If you've never been to Oktoberfest, it's quite hard to explain what it's like, but I'll do my best. Rumour has it the water in Munich used to be so disease-ridden that it was actually safer to drink beer, and that is how people originally started drinking so much of the frothy stuff. Not that they can use that excuse anymore, but hey ho.The image of a buxom girl wearing a traditional Dirndl, hair in plaits, holding five massive beers in each hand is one we all recognise, and last weekend I learned that it's not just a stereotype, it really does happen. A lot. And it's epic.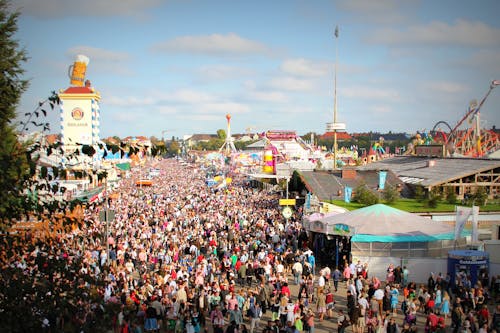 That's part of the reason I really wanted to go to Oktoberfest – I didn't have any particular desire to drink beer all day, but I wanted to experience such a famous aspect of German culture. I wanted to wear my new Dirndl – seriously, everyone wears them. If you don't, you stand out, and I think it's awesome just how many people really go for it and wear their traditional Lederhosen (for the guys) and Dirndls (for the girls). I don't think people back at home in the UK would be so carefree and willing to look, perhaps, a little silly. Ze Germans are crazy.I'd been warned that, despite being lucky enough to have a friend living outside Munich with whom I could stay, Oktoberfest is an expensive experience. And yes siree, it really was. That said, by travelling in a group on a budget train ticket, we really slashed our transport costs, which is awesome.Sure, we're all relatively broke students who have yet to be paid from our new year abroad jobs, but the way we saw it, we're probably only going to be in Bavaria during Oktoberfest once in our lives, so you've got to go for it, haven't you? #YOIBO is the hashtag I've been throwing around, desperately hoping it will catch on (we're getting there. Ish), which stands for You're Only In Bavaria Once. Let's get it trending.As a language assistant this year, I get Fridays off (whoop!), so I really wanted to make the most of my long weekend and see some of Munich too. It was quite a long train journey, but there's so much pretty countryside to look at out of the train window, and I found it very amusing that the closer to Munich I traveled, the more people wearing Tracht (Dirndls and Lederhosen) I saw. It's hilarious! The world and his wife were going to Oktoberfest, and one of my trains was so full that people were asked to get off because it was so heavy. Naturally, I was not going to get out of my seat.
I arrived in Munich and went for a wander. It was a disappointingly grey day, but it was still nice to explore. Unsurprisingly, the centre of the city was jam-packed with Tracht-wearing tourists and locals alike, but I had nowhere to be in a hurry, so happily strolled down the main shopping streets to Marienplatz.Casually strutting down the street in their LederhosenI really wanted to climb to the top of Marienkirche, but alas, it was closed for refurbishment. I still had a lookie inside the church though and it was indeed beautiful.Pretty autumn leaveOh, to be whizzing round the city on this!I love my little town of Bayreuth, but it was nice to see the hustle, bustle, buzz and so many huge shops in Munich – if I was rich, I could have so much fun shopping there. Beautiful boutiques and chain stores were both to be found.In classic Rachel fashion, I'd done my research before my visit and read about Munich's big market, the Viktualienmarkt. I found my way there and had a wonderful time perusing interesting German foods, flowers and more (and, naturally, tasting all the free samples.)Even the fruit in Germany is well organisedAfter a wonderful few hours a-wandering, it was time to meet up with my friends and head to the lovely Anna's place for the night. We had an evening of pasta, catching up and mentally preparing ourselves for the following day at Oktoberfest.
Knowing we'd have to get up early, we tried to get to bed at a reasonable time, but unsurprisingly, we failed. And just like the sleepovers of our youths, Charlotte, Anna and I ended up talking about the usual girly things from the comfort of our mattresses (much to Joe's delight, I'm sure.)Having already been to Oktoberfest the weekend before, Anna was amazing as a guide. Much to my dismay, she told us that we really would have to get there super early if we wanted to get into a tent, and trust me, you want to get into a tent. There's not much point in going otherwise.Anna also warned me my shoes would be destroyed. Tragically, she was also right about that. Farewell, pretty purple pumps!So, we got up BEFORE THE SUN at 6am, threw on our Dirndls, chomped down some toast and headed off into the night/morning. It was cold. We were so tired, but also very excited. Annoyingly, we realised it was too early even for the buses to be running, so we ended up jogging through the streets, in the dark, wearing Dirndls, trying to thumb a lift to the station in order to get our train into the centre of Munich. I know. This is commitment to Oktoberfest.Now I'd never usually condone hitch-hiking, and I'd never done it before, but in a group of four (including one boy) who were clearly going to Oktoberfest, I figured it'd be OK. Luckily, an amazingly kind German lady pulled over and ran us down to the station in her car. By this point, we'd already run most of the distance, but it was much appreciated nonetheless, as it meant we had time to grab a cup of tea at the station. Astoundingly, most of our fellow Tracht-wearing train companions were already on the beer rather than tea. AT 7AM! Ludicrous.
We walked to the Wiesn (German name for Oktoberfest) along with thousands of other keen beans, met up with my other lovely uni friend, Frankie, and joined a queue for one of the tents. At this point, it was barely 8am, so none of the rides, stalls or attractions were open. It was strange. The 'tents' (if you can call them that, they're more like massive solid buildings) don't open till 9am either, but there were already SO many people there The Hacker 'tent' The thing is, you have to get into a tent if you want to experience Oktoberfest, and if you want to get into one, you need to get in there from the start, as people won't leave all day and you've very little chance of getting in later. Once you're in a tent, you do not leave. You stay there, drinking over-priced beer, eating over-priced food, making friends, dancing and singing until you've had your fill.By the time we joined a queue, there were already loads of people ahead of us, and we weren't sure at all that we'd get in. Security were shouting out that the tent would be full and there was no point queueing, and we seriously contemplated going to explore Munich all day and coming back in the evening in the hope that some people would have left.Some people gave up on the queue, we decided to stick it out, ever hopeful. If it turned out that we'd got up so early and didn't even make it into a tent, I may have cried. The hour or so spent waiting passed quickly though – it was fun with my friends, and there was plenty to see (including very many easy-on-the-eye Lederhosen wearing men. Seriously. Lederhosen = a good look on a man.)
As 9am approached, the queue turned into a massive mosh. I have never been so squished in my life, but at least it was warm. Our group held hands and tried our best not to get pushed aside or lose each other. Bit by bit, we moved closer to the entrance. So close, but so far! It was tense. Then suddenly, we were through!We weren't yet in the tent, but in the outside waiting bit, meaning we were going to get in HOORAH! I was thrilled. And sure enough, we got into the tent, only to find an even bigger challenge lay ahead: finding space on a table.If you don't find a table to sit at, you might as well leave, as you can't really just stand on the side of the room. As some of the last to get into the tent (seriously, a few minutes later and we wouldn't have made it), there was seemingly no sitting space. We decided to split up into a two and a three in the hope of finding somewhere to sit, and thankfully, we did.At around 9.30am, Frankie, Anna and I were sitting alongside three Germans and four French guys, sipping on our ginormous beers, plaiting each other's hair and sharing a pretzel the size of a pizza. It was bizarre, but awesome.Anna is a hair-plaiting goddesThere's a great atmosphere inside the tents (we were in Hacker), and you kind of forget how early it is. That said, it still took me over three hours to drink my one Mass of beer. By this point, the French guys next to us were on about number four each, but what do you expect? The beer at Oktoberfest is extra strong too, so you have to make sure not to peek too early. It's also 10 Euros for one which is insane but what can ya do? Sure, you can buy other drinks, but absolutely no-one does.
There are lots of waitresses and waiters walking up and down between the tables and bringing over ever more beers and food (a lot of Wurst, natch), as well as selling yummy baked goods (like the aforementioned pretzel) from baskets.As the day went on, space for two more opened up on our table, so, miraculously, our whole group ended up together which was marvelous. The band kicked off, and we spent the day dancing on the benches, singing along to some very catchy tunes, and, in my case, speaking more French than German.It was really a lot of fun, but by 4.30/5ish, we were all pretty ready to go. Fresh air and water were very much needed, so we said goodbye to our French friends and headed out to buy some cheaper-but-still-expensive nourishment in the shape of hotdogs and water, and explore the rest of Oktoberfest. There's still lots to do outside the tents, but it all costs a looooot of money. Maybe I'll go again when I'm rich. That's 'when', not 'if'. Ahem.Feeling slightly exhausted, we left the Wiesn to meet some other friends from uni, Tom and Dan (everyone wants to go to Munich for Oktoberfest) back in central Munich. Sitting outside the famous Frauenkirche, we had drinks and caught up on each other's year abroad stories before moving to Vapiano to share pizzas and then on to another bar for cocktails.
The Bavarian Bristol uni crewIt was wonderful to walk round Munich by night, especially with friends who live there and knew where we were going.But by midnight, prematurely-middle-aged moi was absolutely zonked, so home to bed it was. Oktoberfested out.Unsurprisingly, we weren't up for much the next day, but I still wanted to make the most of my time in Munich. After some much needed sugar in the McDonald's McCafé (haven't been in one before? Most European McDonald's have café sections and they're actually really very nice whilst still cheap), we went for a stroll through the English Gardens, which is basically a massive park.The random but lovely Chinese TowerOh, did I mention we ended up losing Charlotte the evening before? Yeah, we were pretty worried Oktoberfest had her for good, but it turned out she was fine and had ended up being treated to a night in a four star hotel, despite having lost her phone.So, we met up with Charlotte at the station, said farewell to my Munich-based friends and settled ourselves on the train to regale each other with funny anecdotes from the previous dayThat said, we weren't settled for long because it turned out that a) we were in first class by accident, and b) we were on a train for which our ticket wasn't valid. Oops. I suppose things like that are always bound to happen at the start of the year abroad.I strolled back from Bayreuth station that evening thoroughly exhausted but so glad I went to Munich and  Oktoberfest. I was freezing too (ze German vinter is chilly!), but it helped that I had pretty sights like this to stroll towards.