Today's blog post comes to you from the beach. Just in case you haven't seen my last few blog posts, I feel I should let you know I'm currently having a blissful time on holiday in Portugal's Algarve.See, I'm not making this up. The sea is actually coming in at an alarming rate though, and any second now we're going to have to gather our things and run up the beach.Last night we had a barbecue. The family assumed traditional roles: Dad took to the coals, mum was on the accompaniments, and I busied myself by stuffing my face with Pringles while waiting. Oops. I just shouldn't be left alone with them – the packet's not lying: once you pop, you really can't stop. For pudding, the sister and I knew exactly what we were having. There was no doubt about it: barbecue = chocolate filled bananas. DEEEEELISH.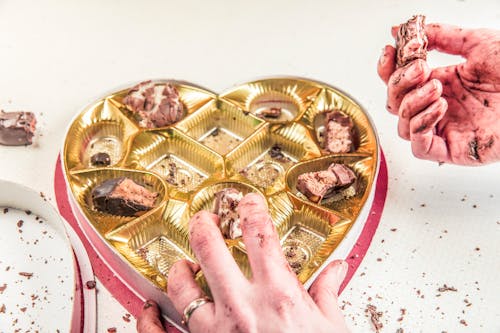 Everyone knows banana and chocolate is a winning combo, and of course you could use whatever chocolate you like – heck, you could stuff whatever you want in there, maybe mini marshmallows – but in my family, we like to use praline milk chocolate. Specifically, Milka's Noisette. God, I love Milka. When I went to Berlin a few months ago we were amazed at all the different variants, and I would be lying if I said that wasn't an aspect of my impending year abroad that I'm particularly looking forward to.These bananas are so simple to make and yet so scrummy. The banana goes extra soft and sweet and merges amazingly with the smooth melted chocolate. You just whack them on the BBQ after you've gobbled up the main affair – be sure there's enough heat left in those coals – and you're good to go. Per person you need one banana and around 4-6 squares of chocolate, depending on the size of your bananas and how well you can stuff the chocolate in!
Method
Hand modeling here by my sister
1. Using a sharp knife, slice through the bananas lengthways, but be careful not to slice through the peel on the other side. Leave a bit of banana unsliced at each end so they don't fall apart.
2. Break the chocolate into pieces and squeeze them into the gap in the bananas. Press them down as best you can.
3. Wrap the stuffed bananas in foil and place them on their sides on the BBQ coals. Leave to cook for around 10-15 minutes, turning over halfway through to make sure they cook evenly.
4. Open the foil carefully and eat with a teaspoon – scoop out the delicious banana-y chocolatey goodness and enjoy. But be careful – it'll be hot!