I've been back at uni for a couple of weeks now, and am loving my oh-so-busy student life. One thing I am not loving, however, is my lack of time for baking. If you followed my blog over the summer, you probably got used to a new recipe popping up every other day or so, and I'd still be baking that frequently if I could. Or if I had the money to be constantly buying new ingredients. That's another aspect of uni life that's different from baking at home: I no longer have a fully-stocked kitchen cupboard of exotic baking ingredients, so everything's going to be a bit more budget and basic from now on. Hashtag student problems eh?Before today, I was experiencing real baking withdrawal symptoms, especially considering I'd bought lots of shiny new baking utensils prior to moving into my new student house. I think the fact that it's one of my housemate's birthdays tomorrow gave me the reason I needed to put my French and German studies aside for a few hours and indulge myself in a spot of baking.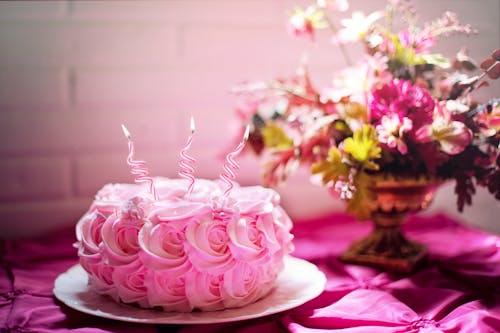 If your bananas look like this, they're perfect.
So, this cake is extremely simple to make and you don't need anything fancy. It's also a super way to use up over-ripe bananas that have turned brown (no, seriously… the browner the better as it makes them sweeter.) They make the cake deliciously moist, and I think a sandwich cake is always the best type of cake for a special celebration. As ever, remember to take your eggs and butter out of the fridge well in advance so they reach room temperature before you use them.
Ingredients – Cake:
125g unsalted butter
250g caster sugar
2 large eggs, lightly beaten
1 tsp vanilla extract
250g self-raising white flour, sifted
4 bananas
Filling and icing:
2 tbsp jam (I used strawberry)
100g icing sugar
Sprinkles and writing icing to decorate (optional)
You could just leave your cake like this.
Method
1. Recipe Basic Banana Birthday Cak Preheat the oven to 180C and grease and line two 20cm round cake tins. Cream the butter and sugar together in a bowl with an electric hand mixer until the mixture is pale and smooth. It may look crumbly for a while first, but persevere and it will smoothen. (I know that's not a word but you get my gist.)
2. Add the beaten eggs, one at a time, mixing briefly after each addition. Add the vanilla extract and beat again briefly. Gradually add the flour and beat yet again until well combined. Do the same with the bananas.
3. Pour the mixture evenly into the two tins, smoothing the tops as best you can. Bake in the centre of the oven for around 40 minutes, until a skewer inserted into the centre of each cake comes out clean.
4. Leave the cakes to cool in the tins for a couple of minutes, then go round the side of each cake with a spatula knife, turn them out of the tins and peel off the baking paper from underneath. Leave to cool on a wire rack.
5. When the cakes are completely cool, transfer one to a large plate or cake stand and spread the jam on top (you could use Nutella or another spread here, but one of my housemates is allergic to nuts so I went for a simple jam to add moistness and sandwich the cakes together). Place the other cake on top.
6. Make the icing by sieving the icing sugar into a bowl, then gradually adding teaspoons of water (about two tablespoons in total) and stirring until it reaches the desired runny consistency. To create a homemade messy effect, I made my icing quite runny and literally just poured it on top of the cake, letting it drip down the sides. If you're adding sprinkles or any other decoration, do so straight away before the icing starts to set. If you're going to use writing icing on top, wait at least an hour for the glacé icing to set.And there you have it! A moist, simple, student-friendly banana birthday cake that filled our student-house with delicious bananary smells all afternoon. I'm just hoping my other housemates don't devour the cake before Tasha's birthday tomorrow!