Yesterday I was meant to be going on a daytrip to a beautiful nearby German town, but alas, Mother Nature had other ideas. She decided it would be one of those horrible, grey, rainy days, when all you really want to do is stay in bed drinking tea and eating chocolate.We sadly came to the conclusion it wouldn't be much fun traipsing round in the rain all day and thus postponed our trip. As far as I see it, a rainy day = a baking day. So, with a free day ahead of me, yesterday morning I delved into my new German baking book for inspiration, folded down the corner of practically every page as I went, pootled off to Lidl and back for ingredients (getting soaked in the process) and a few hours later, chocolate-raspberry-hazelnut torte entered my life.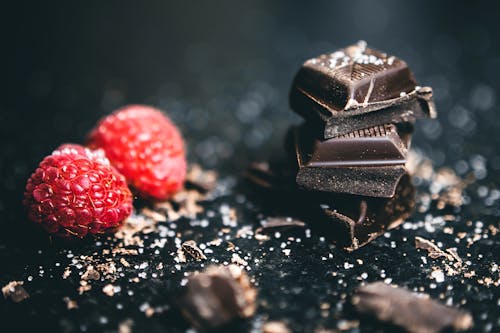 What a welcome addition to my life it is.
This recipe is quite different to the type of cakes I so often make, but I like that. You've got to mix it up every once in a while, haven't you? Push the boat out. Live life on the edge. You know I really want to say YOLO here, don't you? I'm going to resist. Except I basically just said it, didn't I? Oh well. It totally applies.Back to the cake: Nom it up with your afternoon cuppa, or serve warm with ice cream for a yummy dinner dessert. Or do both. On the same day. I'm not judging.I had leftover ground hazelnuts from the Nutella-swirled hazelnut cake I made earlier in the week, as well as five eggs from the mahoosive pack I'd bought, so this recipe was just perfect. One of my new flatmates had just arrived too, and there's nothing like filling the flat with delicious chocolatey smells and bonding over cake now, is there?
Melted milk chocolate = one of the best things ever.
It's not a fluffy, spongey cake, but more of a dense, gooey affair. I prefer to use milk rather than dark chocolate, but if you prefer yours a little less sweet, by all means go for dark. It's squidgy, chocolatey and rich with a cheeky berry tang, and the ground hazelnuts give this torte the most divine texture.
Ingredients
300g frozen raspberries (or other berries of your choice)
200g milk chocolate
5 eggs
A pinch of salt
120g butter, softened
200g icing sugar (plus extra for decoration)
150g ground hazelnuts
2 tbsp plain flour
Method
1. Preheat the oven to 190C and grease and line a spring form 25cm round tin. Take your berries out of the freezer to thaw a bit.
2. Break the chocolate up into pieces and melt gently in a bowl over a pan of simmering water (but make sure the bottom of the bowl doesn't touch the water).
3. Separate the eggs – not the easiest thing in the world, but I do it by cracking them open and carefully holding the yolk in one half with my fingers and trying to pour out the white around it. Using a handheld electric whisk, beat the egg whites with a pinch of salt until fluffy and pop in the fridge to chill. Beat the butter with the icing sugar until fluffy and light (like buttercream icing), then beat in the egg yolks bit by bit.
4. Still using the electric whisk, mix the hazelnuts, flour and melted chocolate into the butter-egg-sugar mix…
Who doesn't love a good pouring chocolate picture?
Then add the beaten egg whites in two lots, folding through with a spatula or large spoon – make sure no white streaks remain, but don't overmix as you don't want to lose the fluffiness.Adding the fluffy chilled egg whites
5.Pour the batter into the tin and scatter 2/3 of the berries evenly on top.Oh yes, let's have another pouring shot.Pop the cake into the oven and bake for around 45-50 minutes in total – after 30 minutes baking, quickly scatter the rest of the berries on top and return to the oven for around 15-20 minutes more. Because of the moisture of the raspberries, it can be quite hard to tell when the cake is done by using the classic skewer method, but if in doubt, I'd suggest bake shorter rather than longer, as I think this torte is better on the squidgy, brownie-esque side. Be careful not to burn the raspberries, and if the top of the cake seems to be getting too dark, cover it with foil.
6. Leave to cool completely in the tin, before removing, sprinkling with icing sugar and serving to your lucky lucky friends and family. Or just yourself. Again, I shan't judge