Ohhh yes. Get ready for some nutty, sweet, slightly salty, creamy, cakey goodness in your life.Remember how I made this peanut butter, nutella and chocolate triple layer cake for my 20th birthday? And for my 19th I made a peanut butter and nutella twist on a Victoria sponge? (Don't worry, I don't expect you to remember.) Well I seem to have started a tradition of baking some sort of peanut buttery, nutella-y cake for my birthday every year.So, with a couple of weeks until my 21st, I give you: peanut butter cupcakes, filled with nutella and topped with a light nutella icing. And they're pretty epic.I adore the sponge alone – it's not too dense, but is still moist from the yoghurt. The cheeky nutella inside adds a wonderful texture combo, and the lovely light icing ensures it's not all too stodgy, sickly or rich. But to be fair, nothing is ever too stodgy, sickly or rich for this gal. *points to self with thumbs*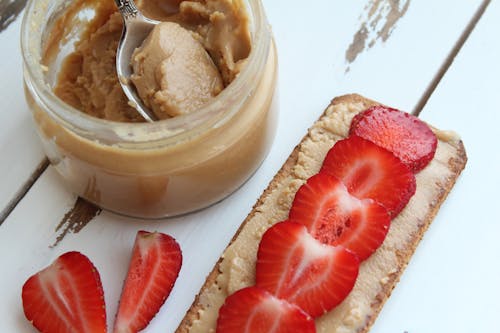 Yes, the icing isn't a fluffy buttercream, but rather a much healthier and lighter yoghurt and cream cheese-based frosting. I myself used light Philadelphia and fat-free Greek yoghurt (the Greekness is crucial for consistency) so I don't have to feel bad for eating the leftovers with a spoon. As I was rather improvising the recipe, I ended up making far too much, but worry not, cake-lovers, I've scaled down the quantities for you all. Phew, I know.You just can't go wrong with peanut butter and nutella, can you? *hears chorus of 'No, Rachel!' in head and realises is totally mad*I've come to the conclusion that I actually enjoy baking and decorating cupcakes even more than eating them. Well just as much, anyway. Are these not so pretty you could cry? No? I went too far, didn't I?To decorate mine, I used some adorable decorations I was sent from the lovely French company, Instant Naturel, who've just launched their UK website. We could call them 'cake decorations', but then again we could also say 'les décors à pâtisserie.' I don't think I really need to comment on which sounds better, do I?
I just love sprinkles! And what's great about Instant Naturel's is – you may have guessed by the name – they're completely natural, organic and ethically produced. I like that a lot. I have to try really hard not to go OTT on the decoration. Must remember: less is more. And I think these look just divine as they are, don't you?This recipe makes eight glorious cupcakes. Remember to take your eggs and butter out of the fridge well in advance!
Cake ingredients:
100g butter, softened
2 tbsp smooth peanut butter (I used reduced fat)
2 large eggs
100g golden caster sugar
75g natural yoghurt (I used fat-free)
100g self-raising flour
Icing and filling ingredients:
65g natural
1 heaped tbsp nutella (plus extra for filling)
1 heaped tbsp low fat cream cheese
1 tsp golden syrup
1 tsp vanilla extract
50g icing sugar, sifted
Method
1. Line a muffin tin with paper cases and preheat the oven to 180C. Using hand-held electric beaters, beat the butter, peanut butter, eggs, sugar and yoghurt together until smooth and creamy.
2. Fold in the flour, then spoon into the muffin cases, filling each one to about 1cm below the top. Bake for about 25 mins until risen and golden. Leave to cool in the tin for about five minutes before transferring to a wire rack to cool fully.
3. In the meantime, make the icing: spoon the Greek yoghurt and nutella into a medium-sized bowl.Add the icing sugar and continue beating until smooth and creamy. The icing won't be fluffy like buttercream, but if it seems really runny, add some more cream cheese and mix well. Cover with clingfilm and pop in the freezer for 45mins-1hr to firm up.
4. While the icing is chilling and when the cupcakes are completely cool, you can do the filling. With a little knife, cut a small cone shape out of each cupcake (eat the cut out bits, of course), and fill each with about 1/2 tsp nutella.
5.When it's firmed up a bit, remove the icing from the freezer, stir it up and get ready to decorate! Drop a teaspoonful of icing on to each cake and carefully spread around with the back of the spoon. Don't worry if it droops over the sides a bit, I think that looks cute. Decorate with whatever sprinkles you fancy! YUM.