Oh my days. This. Is. So so good. I'm sorry, but it just is. The best thing I've cooked or eaten in a long time by a mile (and that's saying something.)It's such a comforting bowl of deliciousness which is crazy as it's so healthy. I mean, seriously healthy. And seriously delicious. Mind = blown.All the ingredients almost caramelise together to give you this slightly sweet, slightly spicy, super flavoursome, filling dish. It's so filling I almost didn't have pudding. Almost. I obviously did, but put it this way: I definitely didn't feel hungry. It's thanks to all the fibre-y goodness in this veggie-packed sensation of a dish!Meat-free, wheat-free, gluten-free, low-fat, anyone would think you were eating celery sticks. But you're not. You're eating something as tasty as a massive cheeseburger with a side of fries and onion rings but without the guilt! Too great. They do say the Mediterranean diet is super good for you..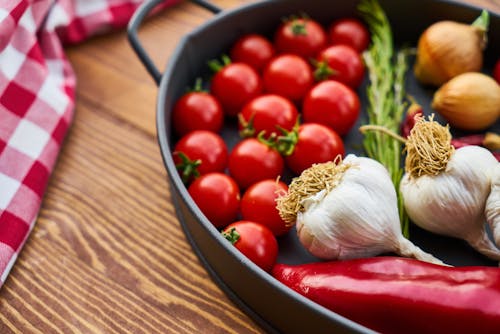 It's so easy as well – you just whack it all in one big dish. Amazing. I used a mix of olive oil and low-cal cooking spray – the former for flavour, the latter to keep cals down – and I think it worked pretty splendidly, personally. The slight garlickyness is yummy too, but not so strong that it overpowers everything else.You know I don't write up actual meal recipes that often as I don't consider myself to be anywhere near an expert. However, when I happen to randomly concoct something this good, I just feel the need to share it with THE WORLD. Yes, the world.I'm so into aubergines at the moment but just wasn't sure how to cook them myself. My previous efforts hadn't wowed me. And then came along this dish. WOW! I love the contrasting textures and the slight kick thanks to the spices. Just look how delightfully colourful it is too.
Let's get up close and personal, shall we?
Eat it warm, eat it cool, toss with lettuce as a salad, serve with rice as a main, whack out a massive dish at a buffet or dinner party and let people dig in. And they will.This is going to be my new go-to healthy din.Serves 2 by itself but 3-4 depending on with what you serve it. Enjoy, my friends.Made In Chelsea + bowl of yum = comfort evening perfection (don't judge me.)Jamie wanted it. Look, he's trying to grab it. Even co-ordinated his top.
Ingredients
1 small aubergine
1 red pepper
1 small onion
1 courgette
Pinch of chilli powder
Sprinkle of dried oregano
Sprinkle of dried basil
2 garlic cloves
1 tin of chickpeas, drained
Olive oil (and low-cal cooking spray, optional)
Method
1. Preheat the oven to 200C and pour a couple of tbsp oil into a large roasting dish. Pop the dish into the oven to heat up (this helps stop the veggies absorbing too much oil) and cut all the veggies into small chunks.
2. Put the chopped aubergine into the dish, season with salt and pepper, mix together so it's evenly coated and roast in the oven for 15 minutes. Remove from the oven, add the chopped, de-seeded pepper and diced onion and stir all together. Add a few sprays of low-cal cooking spray if the veggies look a bit dry. Return to the oven for 10 minutes. Add the courgette, chilli powder, oregano and basil, and once again mix it all up before returning to the oven for 20 minutes.
3. Finally, mix in the chickpeas and chopped garlic and return to the oven for a final 10 minutes or until everything is well-cooked but not turning too dark. Remove from the oven and leave to stand for five minutes or so before tucking in. TOTAL YUMFEST!