InstructorLive has been a bit of a Godsend since moving to Germany a few months ago. I fully believe that if I hadn't discovered it, I would be the size of a house right now. Either that, or I would've had to shell out loads for an expensive gym membership.I'm not going to lie to you and say using InstructorLive has helped me lose weight, because German food is TOO GOOD and I have absolutely zero willpower, but without InstructorLive, I'd definitely no longer be able to fit into any of my skinnies, put it that way!Um what the bajeezus is InstructorLive?Ah yes, I should probably explain. InstructorLive is a website offering live and on-demand fitness classes. And I'm a big fan.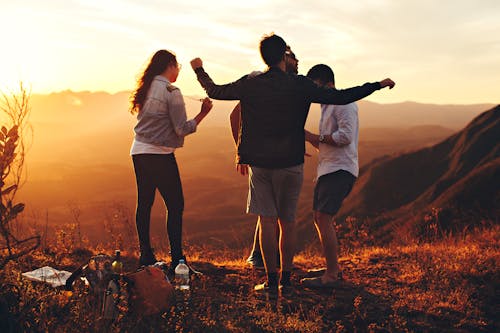 I first found InstructorLive after seeing an offer for a three-month free trial in the Telegraph (which the lovely InstructorLive team so kindly increased to five months in exchange for a review), but I'm pretty sure everyone gets a 30-day free trial to start with. After you've signed up, it costs just £5.99 a month, and when compared to most gym memberships, I think that's a total barg, don't you? And whether you do a class every day or just one a week, the price is the same.Believe it or not considering how much cake I eat, I do actually like to keep fit. However, I'm not a huge fan of going for boring jogs (despite running a 10K a few months ago) – fitness classes are my fave way to burn the calories, so InstructorLive is fab for me.There are tons and tons of different classes to choose from, with new ones starting every week. Whether you like dancing, meditating or squatting, there'll be something for you. With classes such as 'The LBD Workout', 'Yoga Dance Flow', 'Pyjama Pilates', 'Burn and Firm', 'La Bomba'  and 'Ballet-Tec', I feel really quite spoilt for choice.
And if you try a class and don't really like it, just click off it and try something else!The way it works is that each class is streamed live – the instructor obviously can't see us at home, but the participants can message in with questions or comments, to which the instructor then replies. Live. (Name making sense now?) And the idea is that you and your friends could be doing the same class at the same time, you can connect and encourage each other, despite being in different places.I personally haven't done any of the live classes, but each one is stored on the archive which is fab. There are so many to choose from! My faves have been 'The LBD Workout', Aerobics, 'Ballet-Tec', 'La Bomba' and the 'Xmas Dance Party Workout.' That last one is my favourite of the lot though – a dance class led by three super-fit, smiley, elf-like instructors in Santa hats, boogying around to Christmas tunes and chart hits alike. It's genuinely a lot of fun (and I need exercise to be fun or else I won't do it), and I'm just sad that the Christmas class is only a special one-off!For me, it's great that there are always new classes popping up online all the time so you'll never get bored, like you might do with an exercise DVD. If one of the classes gets a bit repetitive, doing the same routines every week, simply change to another one. If you only have time to do half a class, only do half a class. And – although you obviously shouldn't do this – if you wanted to skip a section of a class (press-ups, I'm looking at you), you can do that and NO-ONE WILL JUDGE YOU OR EVEN KNOW! Because you're in your lounge/kitchen/bedroom, potentially in your PJs.
That's the thing – InstructorLive is so convenient! You can workout whenever you want. I like that. And if you're going away and particularly want to keep fit, never fear – you've got your fitness classes at your fingertips. If you're somewhat intimidated by gyms, working out at home can be a great alternative.For some people, InstructorLive wouldn't work. Certain friends have told me they need to actually go somewhere to do their exercise and they would never be motivated enough to do a fitness class at home. For me, it's totally the opposite. I can never be bothered to leave the house and go to the gym (urgh, going outside), especially in the winter, so being able to simply open up a webpage means that I really have no excuse not to exercise.Most of the classes are 45 minutes long, which I think is the perfect length. But there are also a few intense 20 min classes as well as a couple of gentler one hour ones. In my opinion, 45 minutes is prime – you get a good workout (there's no stopping for chats!) and don't get bored or run out of steam.
Generally, the instructors I've seen have all been great. Sure, there have been one or two who I've found sliiiiightly annoying, but that happens with instructors in actual classes too. What can ya do? But you can't dispute that they all know their stuff, are friendly and good teachers.The music in the classes is also great, which is really important, in my opinion. A good song comes on and BOOM! You've suddenly got the energy to work a little harder.The website layout is attractive and easy to use, and there's actually rather a lot more than just the classes going on on there… Nutritional advice, motivational articles, recipes and a blog are all to hand to help us stay healthy and fit. I also get a weekly newsletter too, full of useful tips and news about new classesWhen using the website, you can get as involved as you like. On your profile, you can input your height and weight to map your weight-loss progress, you can connect with other users/instructors, you can rate the instructors and classes, and you can see which classes you've completed. It also tells you how many calories you've burned. I've apparently burned 6,217! Not too shappy, eh? Oh, and you can make all this private or public, so how much you want to share is totally up to you.Get this, I also made it into the 'Hall of Fame' for November, as I was one of the top 20 users. Is this something I should be proud of? I'm going to go with yes.So as you can probably see, I would absolutely 100% recommend InstructorLive. Sure, it's Christmastime and we're all stuffing our faces and sitting around fireplaces, but come January, the chances are we'll all want a bit of a health overhaul. Affordable, convenient and fun, I think InstructorLive may just be a good place to startAnd hey, it's not too late to add a membership to your Christmas list! Let's all feel fit as a fiddle for 2014.